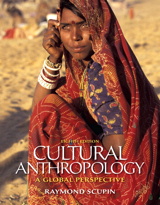 Description
Societal Organization and Globalization in Cultural Anthropology
Cultural Anthropology: A Global Perspective provides students with an introduction to cultural anthropology through a traditional holistic and integrative approach.
Organized by societal type, this book's primary emphasis is on applied anthropology, with a strong coverage of globalization. Additionally, it emphasizes three unifying themes: 1) the diversity of human societies and cultural patterns the world over, 2) the similarities that make all humans fundamentally alike, and 3) the interconnections between the sciences and humanities within anthropology.
Teaching and Learning Experience
Personalize Learning - MyAnthroLab delivers proven results in helping students succeed, provides engaging experiences that personalize learning, and comes from a trusted partner with educational expertise and a deep commitment to helping students and instructors achieve their goals.
Improve Critical Thinking - Critical Perspective boxes ask students to step into an anthropologist's shoes and use their own reasoning and judgment to approach and analyze problems that often arise in research situations.
Engage Students - Applying Anthropology boxes show students that anthropological research helps solve problems that are currently faced by today's societies. Anthropologists at Work boxes profile prominent anthropologists, providing real life examples of many issues covered in the chapters.
Support Instructors - Teaching your course just got easier! You can Create a Customized Text or use our Instructor's Manual, Electronic "MyTest" Test Bank or PowerPoint Presentation Slides. Plus, this text organizes its material based on levels of societal organization and regional topics, instead of structuring the book according to specific topics in anthropology, and devotes five chapters to globalization and culture change!
Note: MyAnthroLab does not come automatically packaged with this text. To purchase MyAnthroLab, please visit www.MyAnthroLab.com or you can purchase a valuepack of the text + MyAnthroLab (VP ISBN-10: 0205179290, VP ISBN-13: 9780205179299)
Table of Contents
Chapter 1 Intro to Anthropology
Chapter 2 Human Evolution
Chapter 3 Culture
Chapter 4 Process of Enculturation
Chapter 5 Language
Chapter 6 Anthropological Explanations
Chapter 7 Analyzing Socio Systems
Chapter 8 Band Societies
Chapter 9 Tribes
Chapter 10 Chiefdoms
Chapter 11 Agricultural States
Chapter 12 Industrial States
Chapter 13 Indigenous Societies
Chapter 14 Globalization in Latin America, Africa & Carribean
Chapter 15 Globalization in Middle East and Asia
Chapter 16 Race and Ethnicity
Chapter 17 Contemporary Global Trends
Chapter 18 Applied Technology
Purchase Info
ISBN-10: 0-205-15880-3
ISBN-13: 978-0-205-15880-5
Format: Book
Print Choices
Loose Leaf Version ?
Books a la Carte are less-expensive, loose-leaf versions of the same textbook.