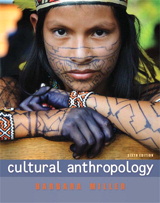 Description
CourseSmart Textbooks Online is an exciting new choice for students looking to save money. As an alternative to purchasing the print textbook, students can subscribe to the same content online and save up to 50% off the suggested list price of the print text. With a CourseSmart etextbook, students can search the text, make notes online, print out reading assignments that incorporate lecture notes, and bookmark important passages for later review. For more information, or to subscribe to the CourseSmart eTextbook, visit www.coursesmart.com.
Table of Contents
BRIEF CONTENTS

Part I INTRODUCTION TO CULTURAL ANTHROPOLOGY
1 ANTHROPOLOGY AND THE STUDY OF CULTURE
2 THE EVOLUTION OF HUMANITY AND CULTURE
3 RESEARCHING CULTURE
Part II CULTURAL FOUNDATIONS
4 MAKING A LIVING
5 CONSUMPTION AND EXCHANGE
6 REPRODUCTION AND HUMAN DEVELOPMENT
7 DISEASE, ILLNESS, AND HEALING

Part III SOCIAL ORGANIZATION
8 KINSHIP AND DOMESTIC LIFE
9 SOCIAL GROUPS AND SOCIAL STRATIFICATION
10 POLITICAL AND LEGAL SYSTEMS

Part IV SYMBOLIC SYSTEMS
11 COMMUNICATION
12 RELIGION
13 EXPRESSIVE CULTURE

Part V CONTEMPORARY CULTURAL CHANGE
14 PEOPLE ON THE MOVE
15 PEOPLE DEFINING DEVELOPMENT

Purchase Info ?
With CourseSmart eTextbooks and eResources, you save up to 60% off the price of new print textbooks, and can switch between studying online or offline to suit your needs.
Once you have purchased your eTextbooks and added them to your CourseSmart bookshelf, you can access them anytime, anywhere.
Buy Access
Cultural Anthropology, CourseSmart eTextbook, 6th Edition
Format: Safari Book
$66.99 | ISBN-13: 978-0-205-03605-9