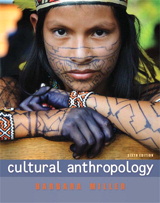 Description
Successfully integrating attention to culture change, gender, class, race and ethnicity, and the environment, this text engages students with compelling ethnographic examples and by demonstrating the relevance of anthropology.
Faculty and students praise the book's proven ability to generate class discussion, increase faculty-student engagement, and enhance student learning.
Through clear writing, a balanced theoretical approach, and engaging examples, Miller stresses the importance of social inequality and human rights, the environment, culture change and applied aspects of anthropology. Rich examples of gender, ethnicity, race, class, and age thread through the topical coverage of economic systems, the life-cycle, health, kinship, social organization, politics, language, religion, and expressive culture. The last two chapters address how migration is changing world cultures and the importance of local cultural values and needs in shaping international development policies and programs.
Material throughout the book highlights the relevance of anthropology to students and how they can apply in their careers. By entwining attention to key theories for understanding culture with an emphasis on relevance of anthropological knowledge and skills, this text is the perfect choice for all introductory cultural anthropology courses.
Table of Contents
BRIEF CONTENTS

Part I INTRODUCTION TO CULTURAL ANTHROPOLOGY
1 ANTHROPOLOGY AND THE STUDY OF CULTURE
2 THE EVOLUTION OF HUMANITY AND CULTURE
3 RESEARCHING CULTURE
Part II CULTURAL FOUNDATIONS
4 MAKING A LIVING
5 CONSUMPTION AND EXCHANGE
6 REPRODUCTION AND HUMAN DEVELOPMENT
7 DISEASE, ILLNESS, AND HEALING

Part III SOCIAL ORGANIZATION
8 KINSHIP AND DOMESTIC LIFE
9 SOCIAL GROUPS AND SOCIAL STRATIFICATION
10 POLITICAL AND LEGAL SYSTEMS

Part IV SYMBOLIC SYSTEMS
11 COMMUNICATION
12 RELIGION
13 EXPRESSIVE CULTURE

Part V CONTEMPORARY CULTURAL CHANGE
14 PEOPLE ON THE MOVE
15 PEOPLE DEFINING DEVELOPMENT

Purchase Info ?
With CourseSmart eTextbooks and eResources, you save up to 60% off the price of new print textbooks, and can switch between studying online or offline to suit your needs.
Once you have purchased your eTextbooks and added them to your CourseSmart bookshelf, you can access them anytime, anywhere.
Buy Access
Cultural Anthropology, CourseSmart eTextbook, 6th Edition
Format: Safari Book
$66.99 | ISBN-13: 978-0-205-03605-9