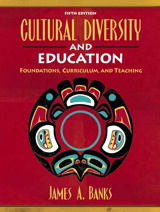 Description
This textbook gives students a strong background in the conceptual, theoretical, and philosophical issues in multicultural education.
Cultural Diversity and Education is designed to help pre-service and in-service educators clarify the philosophical and definitional issues related to pluralistic education, derive a clarified philosophical position, design and implement effective teaching strategies that reflect ethnic and cultural diversity, and prepare sound guidelines for multicultural programs and practices. This book describes actions that educators can take to institutionalize educational programs and practices related to ethnic and cultural diversity.
Dr. Banks has been the leading authority in the field of multicultural education for 30 years. This text provides students with a sound understanding of the conceptual, theoretical, historical, and philosophical issues in multicultural education, as well as curriculum and teaching strategies that can be used in the classroom.
Table of Contents
All chapters conclude with "References."
PART I. DIMENSIONS, HISTORY, AND GOALS.
1. The Dimensions of Multicultural Education.
2. Multicultural Education and Global Citizenship.
3. Multicultural Education: History, Development , Goals and Approaches.
PART II. CONCEPTUAL AND PHILOSOPHICAL ISSUES.
4. Culture, Ethnicity, and Education.
5. Race, Diversity, and Educational Paradigms.
6. Pluralism, Ideology, and Educational Reform.
7. The Stages of Cultural Identity: Implications for Curriculum Reform.
PART III. KNOWEDGE CONSTRUCTION AND SCHOOL REFORM.
8. Race, Disability, Giftedness, and School Reform.
9. The Lives and Values of Transformative Scholars and Citizenship Education.
PART IV. CURRICULUM AND TEACHING STRATEGIES FOR DECISION-MAKING AND ACTION.
10. A Curriculum for Empowerment, Action, and Change.
11. Teaching Decision-Making and Social Action Skills for Social Change.
PART V. GENDER, LANGUAGE, INTERGROUP RELATIONS, AND GUIDELINES.
12. Gender and Educational Equality.
13. Language, Culture, and Education Ricardo L. Garcia.
14. Reducing Prejudice in Students: Theory, Research, and Strategies.
15. Curriculum Guidelines for Multicultural Education.
Appendix: Multicultural Education Program Evaluation Checklist.