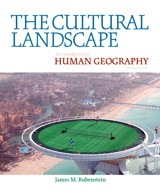 Description
Trusted for its timeliness and ample learning aids, this best-seller introduces geography as a social science by emphasizing the relevance of geographic concepts to human problems. Another main focus of the book is the relationship between globalization and cultural diversity, which is woven throughout the narrative. Rubenstein addresses these themes with a clear organization and presentation that you'll find both readable and engaging.
Table of Contents
1. Thinking Geographically

2. Population

3. Migration

4. Folk and Popular Culture

5. Language

6. Religion

7. Ethnicity

8. Political Geography

9. Development

10. Agriculture

11. Industry

12. Services

13. Urban Patterns

14. Resource Issues


Enhance your learning experience with text-specific study materials.
Purchase Info
ISBN-10: 0-321-67735-8
ISBN-13: 978-0-321-67735-8
Format: Book
Digital Choices
MyLab & Mastering ?
MyLab & Mastering products deliver customizable content and highly personalized study paths, responsive learning tools, and real-time evaluation and diagnostics. MyLab & Mastering products help move students toward the moment that matters most—the moment of true understanding and learning.
eTextbook ?
With CourseSmart eTextbooks and eResources, you save up to 60% off the price of new print textbooks, and can switch between studying online or offline to suit your needs.
Once you have purchased your eTextbooks and added them to your CourseSmart bookshelf, you can access them anytime, anywhere.