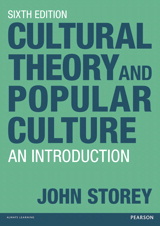 Description
Cultural Theory and Popular Culture: An Introduction, sixth edition, has been extensively revised throughout. As before, the book presents a clear and critical survey of competing theories of and various approaches to popular culture. Its breadth and theoretical unity, exemplified through popular culture, means that it can be flexibly and relevantly applied across a number of disciplines. Also retaining the accessible approach of previous editions, and using appropriate examples from the texts and practices of popular culture, this new edition remains a key introduction to the area.
Essential reading for undergraduate and postgraduate students of cultural studies, media studies, communication studies, the sociology of culture, popular culture and other related subjects.
Table of Contents
Preface/Acknowledgements
Publisher's acknowledgements
1. What is popular culture?
Culture
Ideology
Popular culture
Popular culture as other
Further reading

2. The 'culture and civilisation' tradition
Matthew Arnold
Leavisism
Mass culture in America: the post-war debate
The culture of other people
Further reading

3. Culturalism
Richard Hoggart: The Uses of Literacy
Raymond Williams: 'The analysis of culture'
E.P. Thompson: The Making of the English Working Class
Stuart Hall and Paddy Whannel: The Popular Arts
The Centre for Contemporary Cultural Studies
Further reading

4. Marxisms
Classical Marxism
The English Marxism of William Morris
The Frankfurt School
Althusserianism
Hegemony
Post-Marxism and cultural studies
Further reading

5. Psychoanalysis
Freudian psychoanalysis
Lacanian psychoanalysis
Cine-psychoanalysis
Slavoj Žižek and Lacanian fantasy
Further reading

6. Structuralism and post-structuralism
Ferdinand de Saussure
Claude Lévi-Strauss, Will Wright and the American Western
Roland Barthes: Mythologies
Post-structuralism
Jacques Derrida
Discourse and power: Michel Foucault
The panoptic machine
Further reading

7. Gender and sexuality
Feminisms
Women at the cinema
Reading romance
Watching Dallas
Reading women's magazines
Post-Feminism
Men's studies and masculinities
Queer theory
Further reading

8. 'Race', racism and representation
'Race' and racism
The ideology of racism: its historical emergence
Orientalism
Whiteness
Anti-racism and cultural studies
Further reading

9. Postmodernism
The postmodern condition
Postmodernism in the 1960s
Jean-François Lyotard
Jean Baudrillard
Fredric Jameson
Postmodern pop music
Postmodern television
Postmodernism and the pluralism of value
The global postmodern
Convergence culture
Afterword
Further reading

10. The politics of the popular
The cultural field
The economic field
Post-Marxist cultural studies: hegemony revisited
The ideology of mass culture
Further reading
Notes
Bibliography
Index
Purchase Info
ISBN-10: 1-4082-8527-4
ISBN-13: 978-1-4082-8527-5
Format: Book
This publication is not currently for sale.