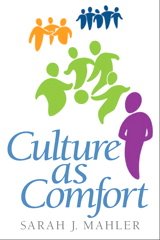 Refund Policy: Information about our product refund policy is available on the Customer Care page.
This is a subscription-based eBook that will be available to you on VitalSource.com for the duration of your course. This eBook may not include any media, website access codes, or print supplements that may come packaged with the bound book.
Description
This is the eBook of the printed book and may not include any media, website access codes, or print supplements that may come packaged with the bound book.
Presents culture and identities as continual processes of doing, rather than as things people possess.
This text encourages readers to understand how we learn culture so early in life that we come to view "it" as a possession more than as our groups' particular ways of thinking and doing. We do the same for "identities" such as gender, race, nationality, and religion because these are also learned. Moreover, as we become culturally competent as children, we do not see what we do as cultural but as natural, as normal. Therefore our ways become comforting to us yet often discomforting to others and vice-versa. The author's goals are to encourage readers to understand how we acquire our cultural comfort zones so that we can expand them throughout life and to appreciate cultural diversity and similarity.
Culture as Comfort is a unique learning tool that is written broadly to appeal to a wide, cross-disciplinary audience. It is not a typical textbook, nor is it a classic supplemental text. Instead, it addresses a critical scholarly concept—culture—using the latest multidisciplinary scholarship. It renders the information in nontechnical language, adding in the author's own insights and stories to make the information enjoyable and easy for readers to comprehend and remember.
Learning Goals
Upon completing this book readers will be able to:
Understand culture and identities as ongoing processes of learning patterns of thinking and doing, rather than as things we possess

Comprehend how learning to be culturally competent involves feeling culturally comfortable among people with whom we share culture and discomforted with those different from ourselves

Recognize that we can expand our cultural comfort zones if we embrace cultural discomforts as opportunities to continue to learn culture

Apply the book's ideas to creatively solve cultural problems in their home, school, and work lives
Note: MySearchLab does not come automatically packaged with this text. To purchase MySearchLab, please visit: www.mysearchlab.com or you can purchase a ValuePack of the text + MySearchLab (at no additional cost): ValuePack ISBN-10: 0205895336 / ValuePack ISBN-13: 9780205895335.
Table of Contents
Chapter One: What is Culture? What is Culture to You?
Chapter Two: We Weren't Born to be Random -- Culture as Comfort
Chapter Three: Culture as Comfort is the Way Our Brains Develop Too
Chapter Four: To Be Human is to Integrate Socially
Chapter Five: Encountering "Others"
Chapter Six: Doing Culture More Mindfully