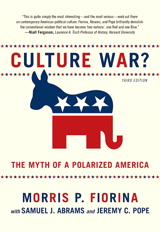 Description
Part of the "Great Questions in Politics" series, Culture War? The Myth of a Polarized America combines polling data with a compelling narrative to debunk commonly-believed myths about American politics–particularly the claim that Americans are deeply divided in their fundamental political views.
Table of Contents
Preface to the Third Edition
Preface to the Second Edition
Preface to the First Edition
1. Culture War?
2. If America is not Polarized, Why Do So Many Americans Think it is?
3. A 50:50 Nation? Red and Blue State People are Not That Different.
4. A 50:50 Nation? Beyond the Red and the Blue States.
5. A Closer Look at Abortion.
6. A Closer Look at Homosexuality.
7. Have Electoral Cleavages Shifted?
8. The 2004 Election and Beyond.
9. Reconciling Micro and Macro.
10. How Did It Come to This and Where Do We Go From Here?
Epilogue. The Road to and from 2008