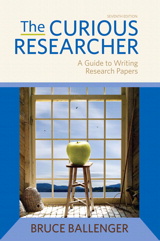 Description
Featuring an engaging, direct writing style and inquiry-based approach, this popular research guide stresses that curiosity is the best reason for investigating ideas and information.
An appealing alternative to traditional research texts, The Curious Researcher stands apart for its motivational tone, its conversational style, and its conviction that research writing can be full of rewarding discoveries. Offering a wide variety of examples from student and professional writers, this popular guide shows that good research and lively writing do not have to be mutually exclusive. Students are encouraged to find ways to bring their writing to life, even though they are writing with "facts." A unique chronological organization sets up achievable writing goals while it provides week-by-week guidance through the research process. Full explanations of the technical aspects of writing and documenting source-based papers help students develop sound research and analysis skills. The text also includes up-to-date coverage of MLA and APA styles.
Table of Contents
Introduction: Rethinking the research paper
Learning and unlearning
Using this book
The exercises
The five-week plan
Alternatives to the five-week plan
The research paper versus the research report
Discovering your purpose
How formal should it be?
The question is you
Thinking like an academic writer
A method of discovery
Firing on four cylinders of information
Facts don't kill
Creative research papers?
Chapter 1: The First Week
The importance of getting curious
Getting the pot boiling
Other ways to find a topic
What is a good topic?
Where's Waldo and the organizing power of questions
Making the most of an assigned topic
Developing a working knowledge
Case study on developing working knowledge: Theories of dog training
Research strategies for developing working knowledge
Using Zotero to manage your research
The reference librarian: A living source
Narrowing the subject
Circling the lighthouse
From landscape shots to close-ups
Crafting your opening inquiry question
Possible purposes for a research assignment
Reading for research
Reading rhetorically
Reading like an outsider
Chapter 2: The Second Week
Developing a research strategy
Google vs. the library
A complementary research strategy
Find enough information by using the best search terms
Index searches using the Library of Congress subject headings
Keyword searching in library databases
Keyword searches on the world wide web
Find varied sources
Primary vs. secondary sources
Objective vs. subjective
Stable or unstable?
Find quality sources
When was it published?
Why journal articles are better than magazine articles
Look for often-cited authors
Not all books are alike
Evaluating online sources
A key to evaluating Internet sources
Developing focused knowledge
What about a thesis?
Suspending judgment?
Testing assumptions?
What are you arguing?
Searching library databases for books and articles
Keeping track of what you find: Developing a bibliography
Finding Books
Understanding call numbers*
Coming up empty-handed?
Checking bibliographies
Interlibrary loan
Article databases
Saving search results
Advanced Internet research techniques
Types of search engines
Living sources: Interviews and surveys
Arranging interviews
Finding experts
Finding nonexperts affected by your topic
Making contact
Conducting interviews
Whom to interview
What questions to ask
During the interview
Notetaking
The e-mail interview
Finding people on the Internet
Making contact by e-mail
The discussion board and listserv interview
Planning informal surveys
Defining goals and audience
Types of questions
Survey design
Avoid loaded questions
Avoid vague questions
Drawbacks of open-ended questions
Designing your multiple choice questions
Using continuum questions
Conducting surveys
Telephone surveys
In person surveys
The Internet survey
Fieldwork: Research on what you see and hear
Preparing for fieldwork
Notetaking strategies
Using what you see and hear
Chapter 3: The Third Week
Writing in the middle
Becoming an activist notetaker
Plagiarism: What it is, why it matters, and how to avoid it
I read what you said and borrowed it, okay?
Why plagiarism matters
Making information your own: Quotation, paraphrase, and summary
Paraphrasing
Summarizing
Quoting
Notetaking
"What? I Failed" by Thomas Lord
Notetaking techniques
The double-entry journal
The research log
Narrative notetaking
Online research notebooks
When you're coming up short: More advanced searching techniques
Advanced library searching techniques
Advanced Internet search techniques
Thinking outside the box: Alternative sources
Chapter 4: The Fourth Week
Getting to the draft
Exploration or argument?
S.O.F.T.
Organizing the draft
Delayed thesis structure
Question—claim structure
Exploring or arguing: An example
Preparing to write the draft
Refining the question
Refining the thesis
Deciding whether to say I
Getting personal without being personal
Starting to write the draft: Beginning at the beginning
Flashlights or floodlights?
Writing multiple leads
Writing for reader interest
Working the common ground
Topics for which common ground is hard to find
Putting people on the page
Using case studies
Using interviews
Writing a strong ending
Endings to avoid
Using surprise
Writing with sources
Blending kinds of writing and sources
Handling quotes
Quick tips for controlling quotations
Grafting quotes
Sandwiching quotes
Billboarding quotes
Splicing quotes
Handling interview material
Trusting your memory
Citing sources
Driving through the first draft
Chapter 5: The Fifth Week
Revising is re-seeing (or breaking up is hard to do)
Global revision: Revising for purpose, thesis, and structure
Writer- to reader-based prose
Is it organized around a clear purpose?
Does it establish significance?
Does it say one thing?
Using a reader
Reviewing the structure
Using your thesis to revise
Examining the wreckage
Other ways of reviewing the structure
Re-researching
Finding quick facts
Local revision: Revising for language
Listening to voice
Avoid sounding glib
Tightening seams between what you say and what they say
Verbal gestures
Scrutinizing paragraphs
Is each paragraph unified?
Scrutinizing sentences
Using active voice
Using strong verbs
Varying sentence length
Editing for simplicity
Avoiding stock phrases
Preparing the final manuscript
Considering a "reader-friendly" design
Using images
Following MLA conventions
Proofreading your paper
Proofreading on a computer
Looking closely
Ten common mistakes in research papers
Using the "find" or "search" function
Avoiding sexist language
Looking back and moving on

Appendix A: Guide to MLA Styles.
Appendix B: Guide to APA Style.
Appendix C: Understanding Research Assignments
Index.