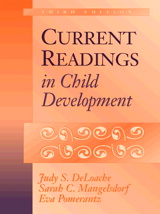 Table of Contents


1. Children of the Garden Island, Emmy E. Werner.


2. Cultural Variation in Infants' Sleepng Arrangements: Questions of Independence, Gilda A. Morelli, Barbara Rogoff, David Oppenheim, and Denise Goldsmith.


3. Mothers' Alcohol Consumption During Pregnancy: Effects on Spatial-Visual Reasoning in 14-Year-Old Children, Earl Hunt, Ann P. Streissguth, Beth Kerr, and Heather Carmichael Olson.


4. The Improvising Infant: Learning about Learning to Move, Esther Thelen.


5. Early Experience and Emotional Developement: The Emergence of Wariness of Heights, Joseph J. Campos, Benett I Bertenthal, and Roseanne Kermoian.


6. Nutrition and Child Developement: More Food for Thought, Marian Sigman.


7. How Do Infants Learn About the Physical World? Renee Baillargeon.


8. The Credible Shrinking Room: Very Young Children's Performance With Symbolic and Nonsymbolic Relations, Judy S. DeLoache, Kevin F. Miller, and Karl S Rosengren.


9. The Developement of Children's Knowledge about Inner Speech, John H. Flavell, Frances L. Green, Eleanor R. Flavell, and James B. Grossman.


10. The Psychological and Social Orgin of Autobiographical Memory, Katherine Nelson.


11. "I harldy Cried When I Got My Shot!" Influencing Children's Reports about a Visit to Their Periatrician, Maggie Bruck, Stephen J. Ceci, Emmett Francoeur, and Ronald Barr.


12. Becoming a Native Listener, Janet F. Werker.


13. Babbling in the Manual Mode: Evidence for the Ontogeny of Language, Laura Ann Petitto and Paula F. Marentette.


14. Temperment and the Reactionsto Unfamiliarity, Jerome Kagan.


15. Maternal Representations of Attachment During Pregnancy Predict the Organization of Infant-Mother Attachment at One Year of Age, Peter Fonagy, Howard Steele, and Miriam Steele.


16. Developemental Change in Children's Assessment of Intellectual Competence, Deborah Stipek and Douglas Mac Iver.


17. Children's Reasoning About Interpersonal and Moral Conflicts, Judith G. Smetana, Melanie Killen, and Elliot Turiel.


18. Gender and Relationships: A Developmental Account, Eleanor E. Maccoby.


19. Gender Stereotypes During Adolescence: Developmental Changes and the Transition to Junior High School, Thomas Alfieri, Diane N. Ruble, and E. Tory Higgins.


20. Externalizing in Preschoolers and Early Adolescents: A Cross-Study Replication of a Family Model, Nancy B. Miller, Philip A. Cowan, Carolyn Pape Cowan, E. Mavis Hetherington, and W. Glenn Clingempeel.


21. Socialization and Developement in a Changing Economy: The Effects of Paternal Job and Income Loss on Children, Vonnie C. McLoyd.


22. Facts, Fantasies and the Future of Child Care in the United States, Sandra Scarr, Deborah Phillips, and Kathleen McCartney.


23. A Developmental Perspective on Antisocial Behavior, G.R. Patterson, Barbara D. DeBaryshe, and Elizabeth Ramsey.


24. Peer Rejection: Origins and Effects on Children's Developement, John D. Coie and Antonius H. N. Cillessen


25. Changes in Adolescents' Daily Interactions With Their Families from Ages 10 to 18: Disengagement and Transformation, Reed W. Larson, Maryse H. Richards, Giovanni Moneta, Grayson Holmbeck, and Elena Duckett.


Answers to Self Help Questions.