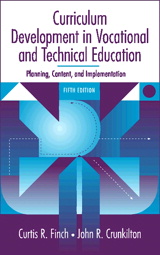 Table of Contents
Each chapter begins with "Introduction" and concludes with "Summary" and "Related References."
I.CURRICULUM DEVELOPMENT IN PERSPECTIVE.
1.Curriculum Development: An Overview.
Historical Perspectives.
Contemporary Perceptions of Education.
Toward a Definition of Curriculum.
Characteristics of the Vocational and Technical Curriculum.
A Rationale for Curriculum Development in Vocational and Technical Education.
Utilizing Sections I, II, III, and IV.
2.Contemporary Designs for Curriculum Development.
A Systems View of Curriculum Development.
Selected Designs.
II.PLANNING THE CURRICULUM.
3.Making Decisions in Planning the Curriculum.
Strategic Planning in Education.
Decision Making in Education.
Factors Affecting Decision Making.
Decision-Making Strategies.
Establishing Standards for Decision Making.
Identifying Types of Data to Be Collected.
Making Decisions in Curriculum Planning.
4.Collecting and Assessing School-Related Data.
Assessing the Current Status of Vocational and Technical Education Programs.
Determining Student Occupational Interest.
Following Up Former Students.
Projecting Future Enrollments.
Assessing Facilities.
5.Collecting and Assessing Community-Related Data.
The Community.
Current and Projected Sources of Employment.
Projecting Labor Supply and Demand.
Assessing Current and Projected Labor Supply.
Interfacing Labor Demand and Supply.
Projecting Program Costs for Use in Decision Making.
Identifying and Assessing Available Resources.
III.ESTABLISHING THE CURRICULUM CONTENT.
6.Determining Curriculum Content.
Factors Associated with Determining Curriculum Content.
Selecting a Curriculum Content Determination Strategy.
Philosophical Basis for Content Determination.
Introspection.
The DACUM Approach.
Task Analysis.
The "All Aspects" of Industry Approach.
The Critical Incident Technique.
The Delphi Technique.
Synthesis of Strategies.
7.Making Curriculum Content Decisions.
The Content Decision-Making Process.
Identifying Constraints Related to Curriculum Content.
Examining Content as It Relates to Constraints.
The Curriculum Framework.
8.Setting Curriculum Goals and Objectives.
Curriculum Outcomes.
Types of Goals and Objectives.
Foundations of Educational Goal Formation.
Preparing Goals.
Preparing Objectives.
Sequencing Objectives within the Curriculum.
IV.IMPLEMENTING THE CURRICULUM.
9.Identifying and Selecting Curriculum Materials.
Curriculum Materials.
Need for Securing Curriculum Materials.
Selecting Curriculum Materials.
Selecting Educational Software: A Special Case.
Textbook Selection.
Curriculum Materials for Learners with Special Needs.
Sources of Curriculum Materials.
Planning to Secure Curriculum Materials.
10.Developing Curriculum Materials.
Determining the Need for Curriculum Materials.
Factors to Consider in Curriculum Materials Development.
The Curriculum Materials Development Process.
Managing the Curriculum Materials Development Process.
Disseminating Curriculum Materials.
11.Curriculum Development for School-to-Work Transition.
School-to-Work Transition.
Individualized Instruction.
Modularized Instruction.
Competency-Based Education.
Integrating Academic and Vocational Education.
Tech Prep.
School-Based Enterprise.
12.Assessing the Curriculum.
A Framework for Assessment.
Planning for Assessment.
Instruments for Program and Materials Assessment.
Conducting the Program Assessment.
Assessing Curriculum Materials.
Utilizing Assessment Results for Curriculum Improvement.
Appendix A: Curriculum Materials Assessment Form.
Appendix B: Educational Software Assessment Form.
Index.