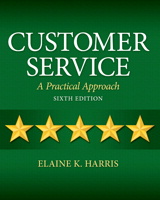 Description
The market-leader, Customer Service: A Practical Approach, Sixth Edition,goes beyond providing reasons why customer service is important to defining proven methods for creating customer service excellence. Using a hands-on approach, it covers a wide range of knowledge and skills and offers an extensive collection of activities to enliven and invigorate any lecture. This edition features a revised chapter on technology, new Ethics in Action exercises and coverage of the latest trends in the customer service field. Focusing on problem solving, communication strategies and technology, this classic text pinpoints the skills needed to improve and sustain customer satisfaction and business relationships.
Table of Contents
1. What is Customer Service?
2. The Challenges of Customer Service
3. Problem Solving
4. Strategy for Formulating a Plan for Success
5. Empowerment
6. Communications in Customer Service
7. Coping with Challenging Customers
8. Motivation
9. Leadership in Customer Service
10. Customer Retention and Measurement of Satisfaction
11. Technology and Customer Service
12. Excellence in Customer Service
These online resources are available at no cost.
Companion Website for Customer Service: A Practical Approach, 6th Edition
This title is also sold in the various packages listed below. Before purchasing one of these packages, speak with your professor about which one will help you be successful in your course.
Package ISBN-13: 9780134840109
Includes this title packaged with:
MyLab Marketing with Pearson eText -- Access Card -- for Selling Today: Partnering to Create Value, 14th Edition
Gerald L. Manning, Michael Ahearne, Barry L. Reece
$126.65 $120.32 | Add to Cart