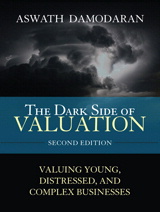 Description
The Definitive Guide to Valuing Hard-to-Value Companies: Now Fully Revised for Today's Financial Markets
Financial professionals have long faced the challenge of accurately valuing companies that are difficult to value using conventional methodologies. Years ago, this challenge was most keenly felt in the "dot-com" industries, and many professionals fell victim to the "dark side," creating values that were simply unsustainable. Now, amidst today's global financial crisis, the same challenge applies to a far wider spectrum of enterprises and assets, ranging from Asian equities to mortgage-backed securities and financial services firms. Aswath Damodaran has thoroughly revised this book, broadening its perspective to consider all companies that resist easy valuation. He covers the entire corporate lifecycle, from "idea" and "nascent growth" companies to those in decline and distress, and offers specific guidance for valuing technology, human capital, commodity, and cyclical firms. Damodaran places special emphasis on the financial sector, illuminating the implications of today's radically changed credit markets for valuation. Along the way, he addresses valuation questions that have suddenly gained urgency, ranging from "Are U.S. treasuries risk free?" to "How do you value assets in highly illiquid markets?"
Vanquishing the "dark side"
Overcoming the temptation to use unrealistic or simplistic valuation methods
Revisiting the macro inputs that go into valuation
What you must know about risk-free rates, risk premiums, and other macroeconomic assumptions
Valuing idea and nascent companies: the first stages of entrepreneurial valuation
Intelligent analysis for angel and early venture capital investing
Special challenges associated with valuing financial services firms
Includes new insights into projecting the impact of regulatory changes
Best practices and proven solutions from the world's #1 expert in valuation, Aswath Damodaran
Now covers all industries and all stages of the corporate lifecycle
Includes extensive new coverage of valuing financial services and commodities companies
What's that company or asset really worth? The question is more urgent than ever: We've all discovered the havoc that can be caused by misvaluing assets and companies. But some assets are extremely difficult to price with traditional methods. To accurately value them, start with the techniques and best practices in this book.
Renowned valuation expert Aswath Damodaran reviews the core tools of valuation, examines today's most difficult estimation questions and issues, and then systematically addresses the valuation challenges that arise throughout a firm's lifecycle. Next, he turns to specific types of hard-to-value firms, including commodity firms, cyclical companies, financial services firms, organizations dependent on intangible assets, and global firms operating diverse businesses.
Damodaran's insights will be indispensable to everyone involved in valuation: financial professionals, investors, M&A specialists, and entrepreneurs alike.
Table of Contents
Preface vi
Chapter 1 The Dark Side of Valuation 1
Chapter 2 Intrinsic Valuation 22
Chapter 3 Probabilistic Valuation: Scenario Analysis, Decision Trees, and Simulations 64
Chapter 4 Relative Valuation 90
Chapter 5 Real Options Valuation 114
Chapter 6 A Shaky Base: A "Risky" Risk-Free Rate 144
Chapter 7 Risky Ventures: Assessing the Price of Risk 168
Chapter 8 Macro Matters: The Real Economy 194
Chapter 9 Baby Steps: Young and Start-Up Companies 213
Chapter 10 Shooting Stars? Growth Companies 263
Chapter 11 The Grown-Ups: Mature Companies 312
Chapter 12 Winding Down: Declining Companies 361
Chapter 13 Ups and Downs: Cyclical and Commodity Companies 417
Chapter 14 Mark to Market: Financial Services Companies 449
Chapter 15 Invisible Investments: Firms with Intangible Assets 476
Chapter 16 Volatility Rules: Emerging-Market Companies 505
Chapter 17 The Octopus: Multibusiness Global Companies 535
Chapter 18 Going Over to the Light: Vanquishing the Dark Side 568
Index 576
Purchase Info
ISBN-10: 0-13-263918-1
ISBN-13: 978-0-13-263918-7
Format: eBook (Watermarked)?
This eBook includes the following formats, accessible from your Account page after purchase:
EPUBThe open industry format known for its reflowable content and usability on supported mobile devices.
MOBIThe eBook format compatible with the Amazon Kindle and Amazon Kindle applications.
PDFThe popular standard, used most often with the free Adobe® Reader® software.
This eBook requires no passwords or activation to read. We customize your eBook by discretely watermarking it with your name, making it uniquely yours.
Includes EPUB, MOBI, and PDF
$74.99 $59.99
Add to Cart