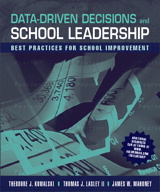 Description
This book integrates theory and practice in decision-making, with a specific focus on data-driven decision making. Applications are demonstrated in the contexts of administration, supervision, and teaching.
The book provides a unique contribution to the literature in this field in that the studies of decision theory and data-based decision making are integrated. Focusing on educators assuming leadership roles in school improvement, the book's content is equally relevant for administrators, supervisors, and teachers.
The book, however, is centered on data-driven decision making, both as a requirement of the No Child Left Behind Act and as a normative professional standard. Issues related to accumulating, storing, and protecting data in districts and schools also are covered. Applications in administration, supervision, and teaching are demonstrated.

Table of Contents
PREFACE.



PART I: FOUNDATIONS OF DECISION MAKING IN SCHOOLS
Chapter 1: Problem Solving and Decision Making in the Context of School Reform
Chapter 2: Decision-Making Behavior
Chapter 3: Decision Complexity, Models, and Action Theories
Chapter 4: Group Decision Making
PART II: DATA-BASED DECISIONS
Chapter 5: Understanding Data-Driven Decision Making
Chapter 6: Research to Drive Education Decision Making
Chapter 7: Collecting and Accessing Data
Chapter 8: Technology and Information Management
PART III: APPLYING DATA-BASED DECISIONS
Chapter 9: Curriculum and Instruction
Chapter 10: Effective School Improvement
Chapter 11: Implementing and Monitoring Decisions
Purchase Info ?
With CourseSmart eTextbooks and eResources, you save up to 60% off the price of new print textbooks, and can switch between studying online or offline to suit your needs.
Once you have purchased your eTextbooks and added them to your CourseSmart bookshelf, you can access them anytime, anywhere.
Buy Access
Data Driven Decisions and School Leadership, CourseSmart eTextbook
Format: Safari Book
$37.99 | ISBN-13: 978-0-205-61488-2