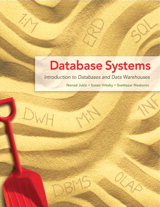 Description
An introductory, yet comprehensive, database textbook intended for use in undergraduate and graduate information systems database courses.
Database Systems: Introduction to Databases and Data Warehouses covers both analytical and operations database as knowledge of both is integral to being successful in today's business environment. It also provides a solid theoretical foundation and hands-on practice using an integrated web-based data-modeling suite.
Teaching and Learning Experience
To provide a better teaching and learning experience, for both instructors and students, this program will:
Prepare Students for the Job Market with Operational AND Analytical Database Coverage: Students will learn to understand both operational and analytical databases to prepare them for today's job market.
Engage Students with Valuable Hands-On Practice: An integrated web-based data-modeling suite engages students as they create their own models.
Support Instructors: Author-written web supplements help bring the course to life.
Table of Contents
1. Introduction
2. Database Requirements and ER Modeling
3. Relational Database Modeling
4. Update Operations, Update Anomalies, and Normalization
5. SQL
6. Database Implementation and Use
7. Basic Data Warehousing Concept
8. Data Warehouse and Data Mart Modeling
9. Data Warehouse Implementation and Use
10. Overview of DBMS Functionalities and Database Administration