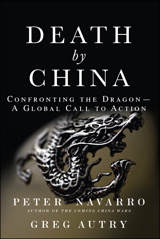 Description
This is the eBook version of the printed book.
China is now the #1 danger facing America. Best-selling author and economist Peter Navarro exposes every form of "death by China"—from lethal products to espionage, imperialism, and nuclear proliferation through China's relentless attack on the U.S. economy. A must-read book for every American, by the best-selling author of
The Coming China Wars.
Table of Contents
Foreword xiii
Chapter 1: It's Not China Bashing If It's True 1
PART I "BUYER BEWARE" ON STEROIDS
Chapter 2: Death by Chinese Poison: Bodies for Bucks and Chicks for Free 15
Chapter 3: Death by Chinese Junk: Strangling Our Babies in Their Cribs 29
PART II WEAPONS OF JOB DESTRUCTION
Chapter 4: Death to America's Manufacturing Base: Why We Don't Play (or Work) in Peoria Anymore 49
Chapter 5: Death by Currency Manipulation: Crouching Tiger, Nuking Dragon 67
Chapter 6: Death by American Corporate Turncoat: When Greenbacks Trump the Red,
White, and Blue 77
Chapter 7: Death by Colonial Dragon: Locking Down Resources and Locking Up Markets Round the World 91
PART III WE WILL BURY YOU, CHINESE STYLE
Chapter 8: Death by Blue Water Navy: Why China's Military Rise Should Raise Red Flags 111
Chapter 9: Death by Chinese Spy: How Beijing's "Vacuum Cleaners" Are Stealing the Rope to Hang Uncle Sam 127
Chapter 10: Death by Red Hacker: From Chengdu's "Dark Visitors" to Manchurian Chips 137
Chapter 11: Death by Darth Liu: Look Ma, There's a Death Star Pointing at Chicago 151
PART IV A HITCHHIKER'S GUIDE TO THE CHINESE GULAG
Chapter 12: Death to a Big Planet: Do You Want to Be Fried with That Apocalypse? 171
Chapter 13: Death by Chinese Pogrom: When Mao Met Orwell and Deng Xiaoping in Tiananmen Square 187
Chapter 14: Death by China on China: Shanghaiing the Gene Pool at the Top of the World and Other Earthly Tales 197
PART V A SURVIVAL GUIDE AND CALL TO ACTION
Chapter 15: Death by China Apologist: Fareed Zakaria Floats Away 215
Chapter 16: Life with China: How to Survive and Prosper in the Dragon's Century 233
Epilogue 261
Endnotes 265
Index 287
Purchase Info
ISBN-10: 0-13-276281-1
ISBN-13: 978-0-13-276281-6
Format: eBook (Watermarked)?
This eBook includes the following formats, accessible from your Account page after purchase:
EPUBThe open industry format known for its reflowable content and usability on supported mobile devices.
MOBIThe eBook format compatible with the Amazon Kindle and Amazon Kindle applications.
PDFThe popular standard, used most often with the free Adobe® Reader® software.
This eBook requires no passwords or activation to read. We customize your eBook by discretely watermarking it with your name, making it uniquely yours.
Includes EPUB, MOBI, and PDF
$25.99 $20.79
Add to Cart