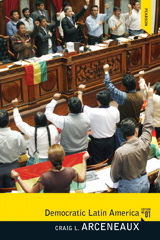 Description
Drawing on new approaches in comparative politics, Democratic Latin America focuses on analyzing political institutions as a way to assess broader trends in the region's politics, including the rise of democracy.
The text looks at the major institutions--executive, legislature, judiciary, military, and more--in 18 democratic countries to not only provide an expansive view of politics in Latin America but to also facilitate cross-national comparison. Democratic Latin America uniquely surveys the what" of the region's politics as well as the "why" and "how" to help students critically consider Latin America's future.
Table of Contents
Chapter 1. An Institutional Approach to Latin American Politics
Chapter 2. State and Nation in Colonial Latin America
Chapter 3. Constitutions: From States and Nations to Regimes—and Back Again
Chapter 4. The Executive: Latin American Style
Chapter 5. The Legislature: Democracy Under Fire
Chapter 6. The Judiciary: Separate but Unequal
Chapter 7. Electoral Systems: The Core of Democratic Politics
Chapter 8. Civil Society and Political Parties: Putting Democracy into Practice
Chapter 9. Federalism and Unitarism: Learning to Share
Chapter 10. The Armed Forces: Bridging the Civil-Military divide
Purchase Info ?
With CourseSmart eTextbooks and eResources, you save up to 60% off the price of new print textbooks, and can switch between studying online or offline to suit your needs.
Once you have purchased your eTextbooks and added them to your CourseSmart bookshelf, you can access them anytime, anywhere.
Buy Access
Democratic Latin America, CourseSmart eTextbook
Format: Safari Book
$32.99 | ISBN-13: 978-0-205-21034-3