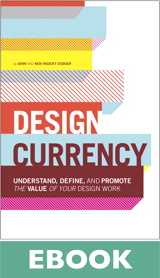 Description
The world needs beautiful design. But aesthetics are inherently subjective. In Design Currency, authors Jenn and Ken Visocky O'Grady show designers how to understand and speak about the value of their design work in terms that their business partners will both understand and respect. A veritable survival guide for designers, Design Currency will empower designers to do their jobs with less pushback on design decisions, enable designers to get involved earlier in the creation process, make it easier for them to justify their fees, and possibly keep their jobs from being out-sourced or even crowd-sourced.

For a designer, understanding how your work creates value is essential to growing your business and building better, more profitable relationships. Those relationships are easier to initiate, establish, and retain when you can clearly explain how your capabilities will meet your client's needs. This book shows designers how to do exactly that.

Readers will learn how to:

Use traditional design skills in new ways
Measure the value that your design work brings to a project
Articulate that value so that you can position yourself as a partner in the development process

Articulate the value of your work to clients, which would enable you to charge what you're worth and prevent your job from getting crowd-sourced or out-sourced

Create the design value that you'll be measuring using several, different research techniques
Table of Contents
CH1: Understand Market Conditions
Design Is Having Its Moment
The Sky, Not Falling
• Data Visualization and Information Design
• User Experience Design (UXD)
• Design Thinking
• Design Research
• Design Entrepreneurship
Quick Tips

CH2: Understand Your Skills
Your Preferred Qualifications
• Design, Thinking + Making
• Project Management
• Life-long Learning
• Comfort with Risk
• Accepting Criticism
• Comprehensive Communication
• Organization and Systems Thinking
Visualizing Your Abilities
What's Your Letter Profile?
Quick Tips

CH3: Understand Your Services
Design is a Value Generator
Hard and Soft Value
Defining Value by the Project
Hierarchies of Value
• Hierarchy of User Needs
• The Design Staircase
Quick Tips

CH4: Define Metrics
Metrics, Metrics, Metrics!
Setting Metrics
• Return on Investment
• Cost / Benefit Analysis
• Money Isn't Everything
–Goals, Outputs, and Outcomes
–S.M.A.R.T. Metrics
Making The Case: Numbers in Context
• Balanced Scorecard and the Four Powers of Design
Quick Tips

CH5: Define Business Impact
Demonstrating Impact: How Does the Design Industry Measure Up?
Proving Design's Value, A Series of Studies
• Design Value Factfinder
-Findings
• Design Effectiveness Industry Report
-Findings
• The Economic Effects of Design
-Findings
Quick Tips

CH6: Define Your Audience
Getting to Know You
• Human Centered Design
• Universal Design
Craft A Research Plan
• Logic Models
Make Sense of Research
• Frameworks
- POEMS
- POSTA
- Users: Think/Do/Use
- The 5E User Experience
Design Alchemy
Quick Tips

CH7: Promote The Value of Design
Case Studies
Purchase Info
ISBN-10: 0-13-305284-2
ISBN-13: 978-0-13-305284-8
Format: eBook (Watermarked)?
This eBook includes the following formats, accessible from your Account page after purchase:
EPUBThe open industry format known for its reflowable content and usability on supported mobile devices.
MOBIThe eBook format compatible with the Amazon Kindle and Amazon Kindle applications.
PDFThe popular standard, used most often with the free Adobe® Reader® software.
This eBook requires no passwords or activation to read. We customize your eBook by discretely watermarking it with your name, making it uniquely yours.
Includes EPUB, MOBI, and PDF
$27.99 $22.39
Add to Cart