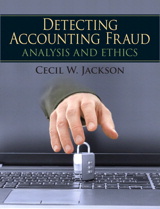 Description
For courses in Accounting Fraud, Forensic Accounting, Financial Statement Fraud, Financial Statement Analysis, Ethics for Accountants, and Auditing.A case-study approach that enables students to identify key signs of fraud in financial statements
Over the last two decades, financial statement fraud has become an increasingly serious issue, resulting in the collapse of ostensibly solid companies and a subsequent lack of confidence in financial markets.
Detecting Accounting Fraud: Analysis and Ethics
was created in response to the challenges facing accountants in this era.
The text provides students a thorough overview of the most frequently used methods of overstating earnings and assets or understating debt in financial statements. It also provides detailed coverage of the main signals indicating possible fictitious reporting in financial statements to help students learn what to look for. And because breakdowns in ethics underlie accounting fraud, the text presents three major theories of ethics, plus applicable ethical decision-making models as well as opportunities for students to apply ethical models to real-world situations.
This text provides a better teaching and learning experience—for you and your students. It will help you to:
• Explain accounting fraud through detailed case studies: The text's real-world case study approach helps students understand the methods used to perpetrate financial statement fraud today.
• Focus student attention on ethics: Ethics coverage integrated throughout the text helps students understand this topic's importance vis-à-vis accounting fraud.
• Foster thorough understanding via student-focused features: An engaging, captivating writing style and diverse end-of-chapter materials motivate and assist students.
Table of Contents
1. Introduction to the Problem of Fictitious Financial Reporting
2. Making Ethical Decisions in the Business World
3. The Sizzling Saga of Sunbeam
4. Hocus Pocus
5. WorldCom Wizardry: From WorldCom to WorldCon
6. Abracadabra
7. Enron and the Tale of the Golden Goose
8. Tall Tales
9. Mortgage Mayhem


Purchase Info ?
With CourseSmart eTextbooks and eResources, you save up to 60% off the price of new print textbooks, and can switch between studying online or offline to suit your needs.
Once you have purchased your eTextbooks and added them to your CourseSmart bookshelf, you can access them anytime, anywhere.
Buy Access
Detecting Accounting Fraud: Analysis and Ethics, CourseSmart eTextbook
Format: Safari Book
$31.99 | ISBN-13: 978-0-13-307952-4