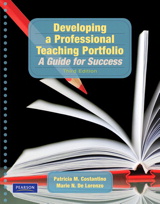 Description
Developing a Professional Teaching Portfolio: A Guide for Success, Third Edition, offers practical, comprehensive guidelines for developing standards-based paper or electronic professional teaching portfolios.
This text leads future and in-service teachers through the rigorous process of documenting the qualities of good teaching: sound planning and preparation, able classroom management, attention to quality instruction, and continuous professional growth. Real-world examples accompany expert advice on both content and presentation, encouraging the creation of an effective portfolio that correlates evidence with national and state standards.
Table of Contents
Preface 00
CHAPTER 1 Understanding the Concept 00
Introduction 00
What Is a Professional Teaching Portfolio?
Types of Portfolios
Pre-service Teacher Portfolios
Entrance Portfolio
Working Portfolio
Exit Portfolio
Interview Portfolio
In-service Teacher Portfolios
Working Portfolio
Showcase Portfolio
Benefits of Portfolio Development
Fosters Self-Assessment and Reflection
Provides Personal Satisfaction and Renewal
Provides Tools for Empowerment
Promotes Collaboration
Provides a Holistic Approach to Assessment
Portfolio Development Issues
Labor-Intensive and Time-Consuming Preparation
Quality of Document Presentation
Evaluation of Portfolio Evidence
Conclusion
Chapter 1 Activities
CHAPTER 2 Performance Standards, Accountability, and Portfolio Development
Introduction
Performance Standards as a Determinant of Teacher Competency
The Importance of Performance Standards to Teaching and Professional Portfolios
Teaching Standards Correlate with Student Standards
Standards Target Outcomes for Teachers
Standards Establish Credibility
Standards Provide a Common Language
Standards Demonstrate a Commitment to Professional Accountability
Standards Provide a Framework for Teaching Assessment and Evaluation
Using Standards and Universal Themes as a Framework for Portfolio Development
Linking Coursework to Performance Standards
Linking a Professional Development Plan to Performance Standards
No Child Left Behind–The Era of Widespread Accountability
Data-Driven Instruction
Conclusion
Chapter 2 Activities
CHAPTER 3 Electronic Portfolios
Introduction
What Is an Electronic Portfolio?
Demonstrating Competency with Technology Standards
What Are the Advantages of Developing an Electronic Portfolio?
Do I Have the Technical Knowledge and Skills?
Using Web-Based Commercial Systems for Portfolio Development
What Computer Hardware Do I Need?
What Computer Software Do I Need?
Options and Issues When Publishing an Electronic Portfolio
Publishing on a CD or DVD
Publishing on the Web
Adhering to Intellectual Property Rights and Copyright Laws
Resources to Get You Started
Websites Created by Dr. Helen Barrett, University of Alaska
Websites with How-to Guides
Websites with Electronic Portfolio Examples
Conclusion
Chapter 3 Activities
CHAPTER 4 Phase I–Getting Started
Introduction
Determining the Purpose of Your Portfolio
Considering a Set of Performance Standards
Collecting, Selecting, and Creating Documents
Suggestions for Portfolio Documentation
Determining the Appropriateness of Your Artifacts
Phase I for Electronic Portfolios
Conclusion
Chapter 4 Activities
CHAPTER 5 Phase II–Enhancing Your Evidence
Introduction
Connecting Standards to Portfolio Documentation
Supporting Your Documentation
Introductions
Explanations
Reflections
Combining Introductions, Explanations, and Reflections
Displaying Your Documentation
Packaging the Contents
Organizing the Documents
Designing the Layout
Phase II for Electronic Portfolios
Conclusion
Chapter 5 Activities
CHAPTER 6 Phase III–Using Your Portfolio
Introduction
Self-Evaluating Your Portfolio
Evaluating the Introduction
Evaluating the Organization
Evaluating the Use of Performance Standards, Themes, or Goals
Evaluating the Documentation
Evaluating Introductions, Explanations, and Reflections
Presenting Your Portfolio
Phase III for Electronic Portfolios
Evaluating the Technical Aspects of Your Electronic Portfolio
Presenting Your Electronic Portfolio
Conclusion
Chapter 6 Activities
CHAPTER 7 Examples of Portfolio Entries
Introduction
Examples
Appendices
A: Examples of Standards
INTASC Standards
NBPTS Early Childhood/Generalist Standards
Performance Standards: The Council for Exceptional Children
B: Professional Organizations
C: Worksheet: Linking Coursework to Standards and Portfolio Artifacts (Tear-out)
D: Worksheet: Documenting Your Professional Development Plan (Tear-out)
E: Sample Permission Letter for Photographs and Videos
F: Worksheet: Making Decisions About Potential Portfolio Documents (Tear-out)
G: Sample Format for Introducing a Video into Your Portfolio
H: Worksheet: Writing Effective Reflections (Tear-out)
I: Worksheet: Evaluating Your Portfolio (Tear-out)
J: Worksheet: Overall Portfolio Assessment Instrument (Tear-out)
K: Examples of Portfolio Guidelines and Assessment Tools
L: Worksheet: Evaluating the Technical Aspects of Your e-Portfolio
Glossary
References
Index
Additional Course Materials