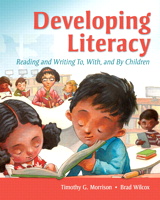 Description
Here is a comprehensive view of all of the elements that are essential to developing effective literacy and providing the necessary gradual release of responsibility for reading and writing from teachers to students. Developing Literacy by Morrison and Wilcox gives teachers the "big picture" and helps them consistently implement what they know about reading and writing. It shows the connections with the Common Core State Standards and the IRA Standards, includes unique "Try This for Teaching" and "Try This for Professional Development" boxes to help apply the concepts, and features samples of teacher and student work to further illuminate the concepts.
Table of Contents
Inside Front and Back Covers
Matrix of Common Core and IRA Standards
Foreword
Preface
Purpose
Organization
Part I: Foundations of Literacy
Chapter 1. Understanding Literacy Contexts
Vignette
Historical Overview
Colonial Period
Early American History
Early 1900s
Late 1900s
2000s
Literacy Theories
Bottom-Up
Top-Down
Interactive
Summary
Self-check
Chapter 2. Understanding the Needs of All Learners
Vignette
Culture
Language Minorities
Second Language Acquisition
Pre-production
Early Production
Speech Emergence
Intermediate Fluency
Advanced Fluency
School Assistance
Special Services
Instructional Support
Poverty
Urban and Rural Education
Urban
Rural
Learning Disabilities
Summary
Self-check
Chapter 3. Teaching for Learning
Vignette
Impact of Teachers
Learning and Teaching
Key Behaviors of Effective Teaching
Variety
Clarity
Task Orientation
Engagement
Success Rate
Components of Literacy
Elements of Reading
Phonological Awareness
Phonics
Vocabulary
Fluency
Comprehension
Traits of Writing
Voice
Organization
Ideas
Conventions
Word Choice
Sentence Fluency
Presentation
Linking Reading and Writing
Literacy Processes
Reading Process
Pre-reading
Reading
Responding
Exploring
Applying
Writing Process
Pre-writing
Drafting
Seeking a Response
Revising
Editing
Publishing
Linking Reading and Writing
Instruction
Approaches
Core Literacy Programs
Reading and Writing Workshops
Literature Units
Self-regulated Strategy Development
Genre Writing
Essential Elements
Time to Learn
Time to Do
Time to Share
Motivation and Literacy
Perceived Requirements
Perceived Expectations
Sincere Desires
Progressing Through Levels
Summary
Self-check
Part II: Components of Literacy
Chapter 4 Emergent Literacy
Vignette
Oral Language Development
Phonology
Semantics
Syntax
Pragmatics
Schema Theory
Insufficient Text Clues
Limited Schema
Mismatched Schema
LiteracyDevelopment
Emergent
Beginning
Fluent
Awareness of Sounds and Letters
Recognition of Language Sounds
Phonemic Awareness
Phonological Awareness
Word Play
Written Language Development
Developmental Stages
Drawing and Scribbling
Letter Stringing
Letter Name/Alphabetic Writing
Transitional Writing
Conventional Writing
Developmental Journal Writing
Combining Spoken and Written Language
Picture Books
Language Experience Approach (LEA)
Summary
Self-check
Chapter 5. Beginning Reading and Writing
Vignette
Word Identification
Phonics
Useful Generalizations
Instruction
Explicit
Implicit
Word Families
Instruction
Word Games
Hink Pink
I'm Thinking of a Word
Making Words
Sight Words
High Frequency Words
Instruction
Putting It All Together
Conventions of Written Language
Concepts About Print
Spelling
Handwriting
Grammar
Interactive Writing
Summary
Self-check
Chapter 6. Fluency
Vignette
Components of Fluency
Skills and Strategies
Rate and Accuracy
Repeated Reading
Neurological Impress
Echo Reading
Expression
Readers' Theater
Puppet Shows
Oral Reading
Group Reading
Assessment
Transition to Silent Reading
Written Language
Sentence Fluency
Timed Writing
Conferencing for Content
Voice
Class Books
Classroom Post Office
Summary
Self-check
Chapter 7. Vocabulary
Vignette
Vocabulary and Reading
Size
Word Collections
Guiding Principles
Experience
Environment
Exposure
Engagement
Types of Words
Instruction
Key Word Prediction
Five Step Approach
Semantic Mapping
Vocabulary and Writing
Word Choice
Precise Language
Synonym Stacking
Good and Better
Powerful Language
Use Your Senses
Throw Out Your First Thought
Poetry
Summary
Self-Check
Chapter 8. Creating Meaning
Vignette
Foundational Meaning-making Abilities
Creating Meaning Through Reading
Reading Comprehension Strategies
Organizational Strategies
Identifying Main Ideas
Summarizing
Recognizing Text Structure
Narrative
Informational
Argumentative
Recognizing Stance
Inferential Strategies
Predicting Outcomes
Drawing Conclusions
Making Connections
Connections Outside Text
Connections Within Text
Creating Mental Images
Asking and Answering Questions
Question-Answer Relationships (QAR)
Questioning the Author (QtR)
Metacognitive Strategies
Comprehension Monitoring
Fixing-up
Multiple Strategies
Creating Meaning Through Writing
Ideas
Life Maps
Shared Stories
Writers' Notebooks
Organization
Audience
Create a New Title
Pen Pals
Forms of Writing
Stories
Memoirs
Class Newspapers
Summary
Self-check
Chapter 9. Integrating Literacy with Content Areas
Vignette
Reading in Content Areas
Expository Text Structure
Description
Sequence
Comparison
Cause and Effect
Problem and Solution
Expository Text Features
Print Features
Organizational Aids
Graphic Aids
Study Strategies
SQ3R
Mnemonic Devices
Letters
Physical Spaces
Peg Lists
KWL
Study Guides
Graphic Organizers
Anticipation Guides
Internet Inquiries
Games
Writing in Content Areas
Writing without Revision
Learning Logs
Think-Write-Share
Note Taking/Note Making
Writing with Revision
Shared Writing
Small Groups
Expository Text
Reports
Alphabet Books
Argument Writing
Persuasive Papers
Advertisements
Summary
Self-check
Part III: Literacy Assessment and Instruction
Chapter 10. Assessing for Learning
Vignette
Types of Assessment
Summative
Norm-referenced
Criterion-referenced
Formative
Response to Intervention
Assessment for Learning
Performance-based
Performances
Portfolios
Projects
Reading Assessment
Individual Methods
Running Records
Informal Reading Inventories
Student-Text Matching
Readability Formulas
Lexile Framework
Advantage/TASA Open Standard (ATOS)
Text Levels
Cloze Procedure
Range of Text Complexity
Qualitative
Quantitative
Reader and Task Considerations
Writing Assessment
Large-scale
Classroom
On-going Assistance
Observing and Making Anecdotal Notes
Conferencing with Students
Using Checklists
Judging Writing
Holistic
Analytic
Informing Instruction
Summary
Self-check
Chapter 11. Reading and Writing to Children
Vignette
Reading to Children
Importance of Reading Aloud
Motivation
Vocabulary
Language and Print Concepts
Attention Span
Read Aloud Techniques
Expression
Illustrations
Questions
Book Selection
Narrative
Informational
Poetic
Writing to Children
Methods
Personal Notes
Morning Messages
Instructions
Classroom Labels
Dialogue Journals
Models
Author Visits
Teacher Modeling
Author's Craft
Summary
Self-check
Chapter 12. Reading and Writing with Children- Whole Class Experiences
Vignette
Reading with Children- Whole Class
Shared Reading within Various Instructional Approaches
Core Literacy Programs
Reading Workshop
Literature Units
Whole Class Novel
Thematic Study
Reading Process
Before Reading
Schema
Attitude
Activity
During Reading
Round Robin Reading
Assigned Reading
Access to Print
Lead Readers
After Reading
Immediate Responses
Eight Ws
Student Survey
Answering Game
Deliberate Responses
Mirror Experiences
Curriculum Integration
Writing with Children- Whole Class
Shared Writing Within Various Instructional Approaches
Core Literacy Programs
Writing Workshop
Self-regulated Strategy Development
Genre Writing
Writing Process
Before Writing
Prompts and Assignments
Advance Planning
During Writing
Access to Print
Lead Writers
After Writing
Responding and Revising
Editing and Publishing
Summary
Self-check
Chapter 13. Reading and Writing with Children- Small Group Experiences
Vignette
Reading with Children- Small Groups
Core Literacy Programs
Primary Grade Groups
Organizing
Working
Before Reading
During Reading
After Reading
Facilitating
Intermediate Grade Groups
Organizing
Purchase Info
Digital Choices ?
MyLab & Mastering with Pearson eText is a complete digital substitute for a print value pack at a lower price.
MyLab & Mastering ?
MyLab & Mastering products deliver customizable content and highly personalized study paths, responsive learning tools, and real-time evaluation and diagnostics. MyLab & Mastering products help move students toward the moment that matters most—the moment of true understanding and learning.
eTextbook ?
With CourseSmart eTextbooks and eResources, you save up to 60% off the price of new print textbooks, and can switch between studying online or offline to suit your needs.
Once you have purchased your eTextbooks and added them to your CourseSmart bookshelf, you can access them anytime, anywhere.