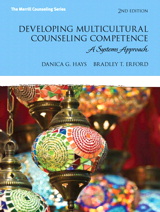 Description
For graduate students preparing to become counselors and for new counselors as a resource
An innovative, evidence-based approach to helping graduate students become multiculturally competent counselors
Revised and updated to present the latest references and statistics related to theory, research, and practice with multicultural populations, this text continues to help graduate students become multiculturally competent counselors. Comprehensive, thoughtful, and in-depth, the book takes readers beyond general discussions of race and ethnicity, into the realm of a broader, more complex view of multiculturalism and social advocacy in clients' and trainees' lives.
Here scholarship is balanced with a highly interactive approach to give future counselors the empirically based information they need, together with engaging, self-reflective activities, discussion questions, case inserts, practitioner and client perspectives, and study aids. In it readers see opportunities for experiential learning related to cultural diversity considerations and social advocacy issues within clients' social systems.
Table of Contents
BRIEF TABLE OF CONTENTS
SECTION ONE The Foundations of Multicultural Counseling 1
Chapter 1 The Culturally Competent Counselor
. Danica G. Hays and Amy L. McLeod 2
Chapter 2 Cultural Identity Development
. Cheryl Moore-Thomas 34
SECTION TWO Social Advocacy 57
Chapter 3 Social Justice Counseling
. Catherine Y. Chang, Philip B. Gnilka, and
Caroline O'Hara 58
Chapter 4 Racism and White Privilege
. Danica G. Hays and Marc A. Grimmett 82
Chapter 5 Gender and Sexism
. Edward Cannon and Anneliese A. Singh 105
Chapter 6 Sexual Orientation and Heterosexism
. Michael P. Chaney and John Marszalek 127
Chapter 7 Social Class and Classism
. Kathryn S. Newton 159
Chapter 8 Disability, Ableism, and Ageism
. Debra E. Berens 189
SECTION THREE Counseling Multicultural Populations 219
Chapter 9 Individuals and Families of African Descent
. Patrice S. Bounds, Ahmad R. Washington,
& Malik S. Henfield 220
Chapter 10 Individuals and Families of Arab Descent
. Sylvia C. Nassar-McMillan, Laura McLaughlin Gonzalez, and
Rasha H. Mohamed 245
Chapter 11 Individuals and Families of Asian Descent
. Arpana G. Inman and Alvin N. Alvarez 278
Chapter 12 Individuals and Families of Latin Descent
. José A. Villalba 313
Chapter 13 Counseling Native Americans
. Michael Tlanusta Garrett, J. T. Garrett, Tarrell Awe
Agahe Portman, Lisa Grayshield, Edil Torres Rivera,
Cyrus Williams, Mark Parrish, Tami Ogletree, and
Barbara Kawulich 341
Chapter 14 Individuals and Families of European Descent
. H. George McMahon, Pamela O. Paisley, and Bogusia
Skudrzyk 382
Chapter 15 Individuals and Familites of Multiracial Descent
. Kelley R. Kenney and Mark E. Kenney 419
Chapter 16 Spiritual Diversity
. Craig S. Cashwell and Amanda L. Giordano 448
SECTION FOUR Multicultural Conceptualization 475
Chapter 17 Alternative Approaches to Counseling Theories
. Jonathan J. Orr 476
Chapter 18 Multicultural Diagnosis and Conceptualization
. Karen Eriksen, Victoria E. Kress, Andrea Dixon, and Stephanie
J. W. Ford 499
Chapter 19 Themes and Future Directions in Multicultural Counseling
Theory, Ethics, Practice, and Research
. Danica G. Hays, Tammi F. Milliken, and Jennifer E.
Randall 529
Appendix AMCD Multicultural Counseling Competencies 543
References 546
Index 584