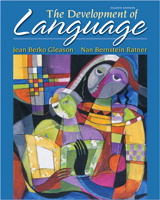 Description
For courses in Language Development.
Combining the contributions of expert researchers, this text offers a definitive exploration of language acquisition and development from infancy through adulthood.
This text offers a multi-disciplinary approach and examines what we know about language development by addressing communication development in infancy, phonological development, semantic development, morphology and syntax. Broadening the scope of study, it puts language development into larger biological, social, and cultural contexts, while investigating individual differences, atypical development, literacy and language development in adults. This edition includes more on cross-linguistic language acquisition (emphasizing Spanish), new research on the nature and treatment of language disorders in children, and new perspectives on the impact of culture on language development and variation.
Table of Contents
1. THE DEVELOPMENT OF LANGUAGE: AN OVERVIEW AND A PREVIEW
Jean Berko Gleason, Boston University
2. COMMUNICATION DEVELOPMENT IN INFANCY
Rochelle Newman, University of Maryland
Jacqueline Sachs, University of Connecticut
3. PHONOLOGICAL DEVELOPMENT: LEARNING SOUNDS AND SOUND PATTERNS
Carol Stoel-Gammon, University of Washington
Lise Menn, University of Colorado
4. SEMANTIC DEVELOPMENT: LEARNING THE MEANINGS OF WORDS
Paola Uccelli, Harvard Graduate School of Education
Barbara Alexander Pan, Harvard Graduate School of Education
5. PUTTING WORDS TOGETHER: MORPHOLOGY AND SYNTAX IN THE PRESCHOOL YEARS
Helen Tager-Flusberg, Boston University
Andrea Zukowski, University of Maryland
6. LANGUAGE IN SOCIAL CONTEXTS: DEVELOPMENT OF COMMUNICATIVE COMPETENCE
Judith Becker Bryant, University of South Florida
7. THEORETICAL APPROACHES TO LANGUAGE ACQUISITION
John N. Bohannon III, Butler University
John D. Bonvillian, University of Virginia
8. VARIATION IN LANGUAGE DEVELOPMENT: IMPLICATIONS FOR RESEARCH AND THEORY
Beverly A. Goldfield, Rhode Island College
Catherine E. Snow, Harvard Graduate School of Education
Ingrid A Willenberg, Macquarie University
9. ATYPICAL LANGUAGE DEVELOPMENT
Nan Bernstein Ratner, University of Maryland, College Park
10. LANGUAGE AND LITERACY IN THE SCHOOL YEARS
Gigliana Melzi, New York University
Adina R. Schick, New York University
11. DEVELOPMENTS IN THE ADULT YEARS
Loraine K. Obler, City University of New York Graduate Center
Purchase Info ?
With CourseSmart eTextbooks and eResources, you save up to 60% off the price of new print textbooks, and can switch between studying online or offline to suit your needs.
Once you have purchased your eTextbooks and added them to your CourseSmart bookshelf, you can access them anytime, anywhere.
Buy Access
Development of Language, The, CourseSmart eTextbook, 8th Edition
Format: Safari Book
$73.99 | ISBN-13: 978-0-13-261252-4