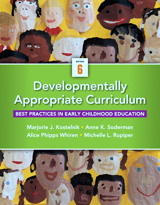 Description
Helps students create the best programs for young children ages three through eight.
The authors' goal in writing Developmentally Appropriate Curriculum: Best Practices in Early Childhood Education was to bring together the best information currently available for developing an integrated approach to curriculum and instruction in the early years.
The Sixth Edition addresses all aspects of classroom life, including the roles of children and adults, the physical and social environments, and teaching and learning within multiple domains for children age three to eight. It provides a comprehensive, cohesive approach to curriculum development, which results in greater continuity for children and practitioners in group settings in childcare, preschool, and the early elementary grades.

Concentrating as much on the "how" of curriculum development as on the "what and why," the authors provide practical, research-based guidelines for translating theory into best practice that accommodates age-appropriateness, individual differences, and social and cultural diversity. Students learn how to conceptualize, plan, implement, and evaluate curriculum through detailed application opportunities in each chapter.
Enhanced Pearson eText. Included in this package is access to the new Enhanced eText exclusively from Pearson. The Enhanced Pearson eText is:
Engaging. Full-color online chapters include dynamic videos that show what course concepts look like in real classrooms, model good teaching practice, and expand upon chapter concepts. Video links, chosen by our authors and other subject-matter experts, are embedded right in context of the content you are reading.

Convenient. Enjoy instant online access from your computer or download the Pearson eText App to read on or offline on your iPad and Android tablets.*

Interactive. Features include embedded video, embedded assessment, note taking and sharing, highlighting and search.

Affordable. Experience all these advantages of the Enhanced eText along with all the benefits of print for 40% to 50% less than a print bound book.
*The Pearson eText App is available for free on Google Play and in the App Store.* Requires Android OS 3.1 – 4, a 7" or 10" tablet or iPad iOS 5.0 or newer
Table of Contents
Part 1 Foundations of Early Childhood Education
Chapter 1: Developmentally Appropriate Practice
Chapter 2: Teaching and Learning in Developmentally Appropriate Programs
Part 2 Setting the Stage for Learning
Chapter 3: Planning and Implementing Effective Small-Group Activities
Chapter 4: Planning and Implementing Effective Group-Time Activities
Chapter 5: Organizing Space and Materials
Chapter 6: Child Guidance in Early Childhood Classrooms
Chapter 7: Assessing and Evaluating Children's Learning
Chapter 8: Strengthening Developmentally Appropriate Programs Through Family Engagement
Part 3 The Curriculum
Chapter 9: The Aesthetic Domain
Chapter 10: The Affective Domain
Chapter 11: The Cognitive Domain
Chapter 12: The Language Domain
Chapter 13: The Physical Domain
Chapter 14: The Social Domain
Part 4 Integrating Curriculum
Chapter 15: Integrating Curriculum Through Pretend and Construction Play
Chapter 16: Organizing Children's Learning Over Time