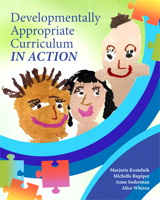 Description
Written for courses in Curriculum in Early Childhood Education and Methods and Teaching Young Children in Preschool and Kindergarten.
A comprehensive overview of all the components necessary to run an effective early childhood program as a teacher, this bright new text remains keenly focused on application and skill-building, utilizing several areas of child development—aesthetic, affective, cognitive, language, physical, and social—as the basis for curriculum planning.
Neither a subject-based nor a materials-based curriculum, this directly applicable text instead promotes several areas of child development and incorporates subject matter areas—art, math, literacy, and science—into the developmental domains rather than focusing on the subjects themselves. The authors present six activity types (exploratory play, guided discovery, problem-solving, discussions, demonstrations, and direct instruction) in every domain. Furthermore, they provide long-form lesson plans and short form plans that illustrate these activity types in all of the curriculum chapters. Closely aligned to the current developmentally appropriate practice (DAP) guidelines, the text effectively prepares pre-service teachers for the Praxis II exam, if it is required in their state.
Promoting the teacher as an active participant in education is another important characteristic of the text, with a detailed discussion of the importance of being intentional in one's teaching and what this looks like in a true classroom environment. The authors support this ideology by explaining and showing how a teacher becomes more active—one ready to make continual judgments about what to plan, how to build on children's interests and knowledge, and how to interact with children to scaffold their learning, Strongly methods-based in its approach, the text also imparts the "how to" of teaching, with a plethora of examples as to what is appropriate to teach children ages three to six years of age.
Table of Contents
Part 1 — Teaching in Early Childhood Programs
Chapter 1 – Ready, Set, Go! : Teaching in Developmentally Appropriate Programs
Chapter 2 — What You Need to Know to Help Children Grow: Preparing to Teach
Chapter 3 – More than a Referee: Effective Child Guidance Strategies
Chapter 4 — Teacher, Teacher, What Do You See: Observing and Documenting Children's Learning
Chapter 5 – Roadmaps to Success: Lesson Plans as Teaching Tools
Chapter 6 — Up Close and Personal: Teaching Children in Small Groups
Chapter 7 – Centered on Learning: Creating and Maintaining Activity Areas Indoors and Outside
Chapter 8 — All Together: Teaching Children in Whole Groups
Part 2: The Curriculum
Chapter 9 – The Aesthetic Domain: Celebrating the Artist Within
Chapter 10 — The Affective Domain: Exploring the Inner Self
Chapter 11 – The Cognitive Domain Part 1: Nurturing Young Scientists
Chapter 12 — The Cognitive Domain Part 2: Fostering Mathematical Thinking
Chapter 13 – The Language Domain: Enhancing Communication
Chapter 14 — The Physical Domain
Chapter 15 – The Social Domain: Interacting with Others
Part 3: Moving Forward
Chapter 16 - Projects and Themes
Appendix A – Sample Lesson Plans
Purchase Info ?
With CourseSmart eTextbooks and eResources, you save up to 60% off the price of new print textbooks, and can switch between studying online or offline to suit your needs.
Once you have purchased your eTextbooks and added them to your CourseSmart bookshelf, you can access them anytime, anywhere.
Buy Access
Developmentally Appropriate Curriculum in Action, CourseSmart eTextbook
Format: Safari Book
$38.99 | ISBN-13: 978-0-13-705777-1