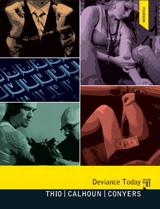 Description
A contemporary collection of readings on deviant behavior
This user-friendly reader contains readings that have been carefully written for clarity and conciseness. All of the articles reflect current trends in the sociology of deviance. The authors examine both criminal deviance (such as robbery and white-collar crime) and noncriminal deviance (such as pornography and tattooing).
Deviance Today explores contemporary trends in the study of deviance such as the emphasis on the constructionist perspective and the greater use of ethnography.
Learning Goals
Upon completing this book, readers will be able to:
Understand major theories in the sociology of deviance
Explore current trends in deviant behavior
Explore different methodologies used to gather data
Note: MySearchLab does not come automatically packaged with this text. To purchase MySearcgLab, please visit:
www.mysearchlab.com or you can purchase a valuepack of the text + MySearchLab (at no additional cost): ValuePack ISBN-10: 0205208754 / ValuePack ISBN-13: 9780205208753.
Table of Contents
1) Brief Table of Contents
2) Full Table of Contents
---
1) Brief Table of Contents
Part One: Positivist Theories
Part Two: Constructionist Theories
Part Three: Physical Violence
Part Four: Substance Use and Abuse
Part Five: Sexual Deviance
Part Six: Physical Manifestations of Deviance
Part Seven: Elite Deviance
Part Eight: Medical Deviance
Part Nine: Deviant Communities
Part Ten: Emergent Deviance
---
2) Full Table of Contents
Part 1: Positivist Theories
Article 1: Strain and Anomie Theories--Timothy Brezina and Miranda Baumann
Article 2: Control Theories of Deviance--Robert Agnew
Part 2: Constructionist Theories
Article 3: Labeling--Mark Konty
Article 4: Conflict Theory: The Ongoing Battle--Addrain Conyers
Article 5: Feminism and Deviance--Julie Ann Harms Cannon
Part 3: Physical Violence

Article 6: Robbery--Dee Wood Harper and Kelly Frailing
Article 7: Child Abuse--Elizabeth Ehrhardt Mustaine
Part 4: Substance Use and Abuse
Article 8: Drug Use as Deviant Behavior--Erich Goode
Article 9: "What's Goin' On?": Illicit Drug and Alcohol Use among College Students--Robert B. Jenkot
Article 10: Academic Strain and Prescription Stimulant Misuse among College Students--Jason A. Ford and Ryan D. Schroeder
Part 5: Sexual Deviance

Article 11: Female Pornography Use and Sexual Coercion Perpetration--Poco D. Kernsmith and Roger M. Kernsmith
Article 12: The Prohibitionist Critique of Prostitution--Ronald Weitzer
Article 13: Exiting Street Prostitution: A Combination of Internal and External Factors--Sharon S. Oselin

Part 6: Physical Manifestations of Deviance
Article 14: The Relationship between Tattooing and Deviance in Contemporary Society--Joshua Adams
Article 15: Self-Mutilation and Body Modification--Jimmy D. Taylor
Article 16: Typologies of Teenage Suicide: Analyzing Suicide Notes through Durkheimian Categories-- Richard Tewksbury, Ronald M. Holmes and David Patrick Connor
Part 7: Elite Deviance
Article 17: White-Collar Crime--Mandeep K. Dhami
Article 18: How Men and Women Avoid the Stigma of White-Collar Crime--Paul M. Klenowski, Heith Copes, Christopher Mullins and Lynne Vieraitis
Article 19: Clergy Misconduct as Elite Deviance: Assessing the Problem--Anson Shupe
Part 8: Medical Deviance
Article 20: Diagnosis as Stigma Management: The Case of Highly Stigmatized Gastrointestinal Symptoms of Celiac Disease--Denise A. Copelton
Article 21: Care Giving without the Care: The Deviant Treatment of Residents in Nursing Homes--Jason S. Ulsperger and J. David Knottnerus
Article 22: The Stigma of Obesity Erich Goode
Part 9: Deviant Communities

Article 23: Furries and Their Communities--Jackie Eller, A. R. Eller and Zachary Santoni-Sanchez
Article 24: Are You "Deaf Enough?"--Melissa Powell-Williams
Article 25: Lesbian/Queer Bathhouse Culture and the Organization of (Im)Personal Sex--Corie Hammers
Part 10: Emergent Deviance
Article 26: The Dawn of a New Era: Renewed Prospects for the Sociology of Deviance in the Internet Age--Keith F. Durkin
Article 27: Paranormal Beliefs as Deviance--Erich Goode
Article 28: Conceptualizing the Criminological Problem of Terrorism--James Ross

Print
$97.80 $92.91 | ISBN-13: 978-0-205-18272-5
Free Ground Shipping.