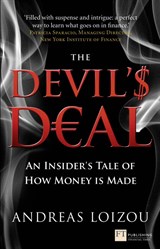 Description
This is the ultimate insider's tale of how international finance really operates.
This controversial first person account details the ins and outs of global finance. Over 20 years the author has enjoyed privileged access to many of the world's top players in money. In this book he reveals the schemes and techniques they use to conjure up enormous sums of money, whilst explaining how international finance operates: from how financial products work and what they are, to what financiers and money players actually do.
Table of Contents
How it All Began
Part One
One way ticket
Chapter 1
From Zurich to disaster
Analyse this – Henry Blodgett
The rules of compounding
Gains and losses
Who chooses equities, and why
Chapter 2
Taking risks
What's risk?
Warren Buffet and the Dalai Lama
IOU
Company specific risk
Luxuries and necessities
Five destroyed brands
Chapter 3
The leap of faith
Risk and return
Safety and danger
Hero and villain - Jérôme Kerviel
Buys and sells
The sad case of Millwall Holdings
Part Two Welcome to the jungle
Chapter 4 Damn clients
The trading floor
Proprietary trading
How an investment bank makes money
It's raining middlemen
Bernie Madoff
Primary and secondary market
Chapter 5
An equitable solution
Shares and bonds contrasted
Income, profit and loss
Earnings per share
Dividend yield
Market capitalisation
P/E ratio
Growth stocks and value stocks
The Google growth story
Front, back and middle
Chapter 6
Promises, promises
What goes up must come down
The time value of money
Inflation, opportunity cost, borrower risk
Discounting
Insider trading
Bonfire of the Vanities and Wall Street
Control
Chapter 7
Very interesting, Mr Bond
Maturity and principals
Bonds and shares compared
Ratings measure risk, usually
What you need to know about rating agencies
Safety and Control
From triple A to single, solitary D
Chapter 8
Chinese walls come tumbling down
Deal toys
George Soros
Income and profit
Front running
Private equity
Every Mistake Imaginable
Sting stung
EBIT doh!
Music and finance
Behind the wall
The burnt out agent
Purchase Info ?
With CourseSmart eTextbooks and eResources, you save up to 60% off the price of new print textbooks, and can switch between studying online or offline to suit your needs.
Once you have purchased your eTextbooks and added them to your CourseSmart bookshelf, you can access them anytime, anywhere.
Buy Access
The Devil's Deal CourseSmart eTextbook
Format: Safari Book
$17.99 | ISBN-13: 978-1-292-00828-8