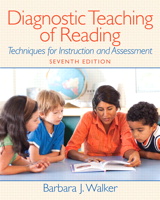 Description
Diagnostic Teaching of Reading, 7/e, by renowned author Barbara J. Walker, is the ideal resource for pre-service and in-service educators, including teachers, reading specialists, literacy coaches, school psychologists, special education teachers, and Title I teachers. In it they see how to use a variety of instructional and assessment techniques to help plan lessons designed to improve literacy for all learners in their charge.
Included are over 65 instructional techniques that meet the diverse learning needs of all students, including struggling readers and writers, English language learners, and culturally diverse learners. With the information presented here, teachers see how to continually reflect on their instructional practices and tailor their instruction to the strengths and needs of the diverse children they teach.
Table of Contents
Contents
PART ONE The Process of Diagnostic Teaching of Reading 1
Ways to Use These Chapters 3
1 What Is Diagnostic Teaching? 5
Active Reading and Writing 7
Differences in Learning 11
Struggling and Writers Readers 11
English Language Learners 13
Culturally Diverse Learners 14
Instructional Process 15
Text-based View
Reader-based View
Interactive constructivist View
Sociocultural View
Balanced Instruction
Assessment Process 20
Diagnostic Teaching Process
Diagnostic Teaching Lesson 23
Summary 14
2 Literacy Development 34
Emergent Literacy Stage 36
Early Developing Literacy Stage 38
Developing Stage 40
Strategic Literacy Stage 43
Complex Literacy Stage 46
3 Effective Teachers 48
Engage All Learner 48
Foster meaningful interpretations and thoughtful understanding 50
Cultivate Vibrant Discussions 51
Access To High Quantity And High Quality Of Reading Material 53
Make use of Scaffolding 54
Nuture Motivation 58
Promote Self regulated Learning 60
Create a Responsive Environment 61
Assess while Teaching 62
Integrate and Balance Instruction 65
Summary
4 The Diagnostic Teaching Session: An Overview 68
Familiar Text Time 69
Supported Reading and Writing 70
Continuous Assessment 74
Strategy and Skill Instruction 78
Analysis of Patterns of Reading Development 78
Instruction in Strategies and Skills 79
Strategy Conversations and Self-Assessment 80
Process Writing Time 82
Personalized Reading and Writing 83
Summary
5 Gathering Diagnostic Data 94
Informal Reading Inventory 94
Establishing the Level of Student Performance
Analyzing the Results from the Informal Reading Inventory
Informal Writing Assessment
Further Assessments
Stages of Reading Development 81
Emergent Literacy Stage
Early Developing Literacy Stage
Developing Literacy Stage
Strategic Literacy Stage
Complex Literacy Stage
Summary
6 The Literacy Event 114
Reader 117
Reader analysis for Jenny
Text 129
Text analysis for Jenny
Task 135
Task analysis for Jenny
Situational Context 144
Situational Context analysis for Jenny
Technique 154
Summary
Formulating Hypotheses for Jenny
Reviewing the Steps
711 Selecting Techniques 172
Classifying Techniques for Supporting Reading and Writing
Classifying Techniques by Instructional Framework
Classifying Techniques by Type of Text
Classifying Techniques by Mode of Response
Classifying Techniques for Strategy and Skill Instruction
Classifying Techniques by Reasoning Strategies
Classifying Techniques by Reading Skills
Classifying Techniques for Increased Specificity
Classifying Techniques by Sources of Information
Classifying Techniques by Type of Structure
Summary
Putting the Parts Together for Jenny
Reviewing Technique Selection
8 Selecting Materials 223
Basic Types of Materials
Basal Readers and Core Reading Programs
Chapter Books
E-Books
Focused Lessons Books
High-Interest, Low-Readability Books
Internet Materials
Leveled Books
Media
Picture Trade Books
Poetry Anthologies
Predictable Books
Series Books
Software Programs
Textbooks
Selecting Material for a Particular Reader
Matching the Text to the Reader
Evaluating the Text
More to Consider When Selecting Material
Interest
Choice
Background Knowledge of the Reader
Length of the Book
Summary
9 Initiatives and Teacher Development 246
Response to Intervention
Sheltered Instruction Observation Protocol for English Language Learners
Shared Expertise in Reading
Reflecting
Developing Collaboration
The Learning Community
Forms of Studying Reading Instruction
Study Groups
Teacher Research Groups
Criteria for a Teacher Development Context 167
10 Using Multiple Assessments 261
Authentic Assessments
Criterion-Referenced Tests
Formal Assessments
Informal Assessments
Motivation Assessment
Performance Assessment
Process-Oriented Assessments
Rubrics
Student Self-Assessment
The Assessments 266
Anecdotal records
Assessment Letters
Assessment Talks
Attitude Toward Reading
Cloze Test
Concepts about Print Interview
Diagnostic Teaching Assessment
Developmental Reading Assessment 2
Informal Reading Inventory
Interest Inventories
Letter Name Knowledge
The Metacognitive Awareness of Reading Strategies Inventory
Miscue Analysis
Motivation to Read Profile
Multi-Dimensional Fluency Scale
Norm-Referenced Tests
Observations
Phonemic Segmentation
Phonological Awareness
Portfolios
Retelling Rubric
Running Records
Self-Perceptions as a Reader and Writer
Spelling Assessment
Strategy Self-Assessments
Student-Led Conferences
Summarization Rubric
Think-Aloud Analysis
Word Identification Assessment
Writing Rubric
Evaluating Student Performance Using Multiple Assessments 145
Summary
PART TWO The Instructional Techniques 317
The Information for Each Technique
Ways to Use These Techniques
Techniques (listed alphabetically)
1. Alternate Writing
2. Analytic Phonics
3. Chunking
4. Cloze Instruction
5. Collaborative Reading
6. Concept Mapping
7. Concept-Oriented Reading Instruction
8. Contextual Processing
9. Decoding by Analogy
10. Digital Talking Books
11. Direct Experience Approach
12. Directed Reading Activity
13. Directed Reading-Thinking Activity
14. Experience—Text—Relationship
15. Explicit Teaching
16. Feature Analysis Grid
17. Framed Rhyming Innovations
18. Generative-Reciprocal Inference Procedure
19. Graphic Organizers
20. Group Investigation Approach
21. Guided Reading
22. Imagery Instruction
23. Implicit Teaching
24. Impress Method
25. Interactive Writing
26. Internet Inquiry
27. Journal Writing
28. K-W-L
29. Language Experience Approach
30. Listening-Thinking Activity
31. Literature Discussions
32. Making Words
33. Making and Writing Words
34. Metaphors
35. Multisensory Approaches
36. Paired Reading
37. Phonogram Approach
38. Prediction Strategy Instruction
39. Process Writing
40. Question-and-Answer Relationships
41. Question-Generation Strategy
42. Questioning the Author
43. Readers Theater
44. Reciprocal Teaching
45. Repeated Readings
46. ReQuest
47. Retelling 308
48. Retrospective Miscue Analysis
49. Say Something
50. Semantic Mapping
51. Sentence Combining
52. Shared Reading Approach
53. Sight-Word Approach
54. Sound Boxes
55. SQ3R
56. Story Drama
57. Story Mapping
58. Story Writing Approach
59. Strategy Instruction
60. Summary Experience Approach
61. Summarization
62. Synthetic Phonics
63. Thematic-Inquiry Approach
64. Think-Aloud Approach
65. Visualization
66. Vocabulary Self-Collection Strategy
67. Word Sorts
68. Word Walls
Appendix A
Administering an Informal Reading Assessment
Appendix B
Predictable Book List
Appendix C
High Interest Series Books
Appendix D
Online Resources
Glossary
Reference
Index
Purchase Info
Digital Choices ?
MyLab & Mastering with Pearson eText is a complete digital substitute for a print value pack at a lower price.
eTextbook ?
With VitalSource eTextbooks, you save up to 60% off the price of new print textbooks, and can switch between studying online or offline to suit your needs.
Access your course materials on iPad, Android and Kindle devices with VitalSource Bookshelf, the textbook e-reader that helps you read, study and learn brilliantly. Features include:
See all of your eTextbooks at a glance and access them instantly anywhere, anytime from your Bookshelf - no backpack required.
Multiple ways to move between pages and sections including linked Table of Contents and Search make navigating eTextbooks a snap.
Highlight text with one click in your choice of colors. Add notes to highlighted passages. Even subscribe to your classmates' and instructors' highlights and notes to view in your book.
Scale images and text to any size with multi-level zoom without losing page clarity. Customize your page display and reading experience to create a personal learning experience that best suits you.
Print only the pages you need within limits set by publisher
Supports course materials that include rich media and interactivity like videos and quizzes
Easily copy/paste text passages for homework and papers
Supports assistive technologies for accessibility by vision and hearing impaired users