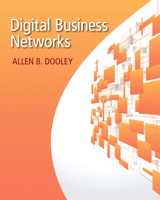 Description
For courses in Data Communications and Networking
¿
Wireless technologies and social networking applications are dramatically transforming data communications. To keep readers aware of these rapid changes, Digital Business Networks explores emerging technologies, such as 4G mobile wireless, the advent of social networking applications from a business perspective, the underlying layer architecture functionalities of the TCP/IP model, and IPv6.¿ The running theme of the discussion is cloud architectures, and the way they impact businesses' networking capability.
¿
Teaching and Learning Experience
To provide a better teaching and learning experience, for both instructors and students, this program will:
Engage Students: Activities and a running case study offer a real-world perspective that helps students connect what they are learning with how it will be applied in a business setting.
Apply Theory and/or Research: This text explores the current theories and research associated with the emerging technologies associated with digital business networks.
Support Instructors and Students: End-of-chapter student resources and instructor materials supplement the text, and extend learning both inside, and outside, of the classroom.
Table of Contents
I. DATA COMMUNICATION ESSENTIALS
1. Elements of Data Communications: Analog and Digital
2. Networking Models: OSI and TCP/IP
II. LAYER SERVICES
3. Physical Layer Fundamentals: Concepts and Components
4. Physical Layer Fundamentals: Media and Devices
5. Data Link Layer Fundamentals
6. Network Layer Services
7. Transport and Application Layer Services and IPv6
III. NETWORKING IMPLEMENTATIONS
8. Local Area Networks and Backbone Networks
9. Wide Area Networks
IV. ENTERPRISE SOLUTIONS
10. Servers in the Enterprise
11. Integrating the Enterprise
12. Securing the Enterprise
V. CURRENT AND EMERGING DIGITAL BUSINESS TECHNOLOGIES
13. Wireless Technologies
14. Business and Social Networking
Purchase Info ?
With CourseSmart eTextbooks and eResources, you save up to 60% off the price of new print textbooks, and can switch between studying online or offline to suit your needs.
Once you have purchased your eTextbooks and added them to your CourseSmart bookshelf, you can access them anytime, anywhere.
Buy Access
Digital Business Networks, CourseSmart eTextbook
Format: Safari Book
$48.99 | ISBN-13: 978-0-13-284692-9