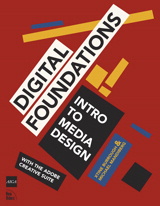 Description
Fuses design fundamentals and software training into one cohesive book
!
The only book to teach Bauhaus design principles alongside basic digital tools of Adobe's Creative Suite, including the recently released Adobe CS4

Addresses the growing trend of compressing design fundamentals and design software into the same course in universities and design trade schools.
Lessons are timed to be used in 50-minute class sessions.
Digital Foundations
uses formal exercises of the Bauhaus to teach the Adobe Creative Suite. All students of digital design and production—whether learning in a classroom or on their own—need to understand the basic principles of design in order to implement them using current software. Far too often design is left out of books that teach software. Consequently, the design software training exercise is often a lost opportunity for visual learning.
Digital Foundations
reinvigorates software training by integrating Bauhaus design exercises into tutorials fusing design fundamentals and core Adobe Creative Suite methodologies. The result is a cohesive learning experience.
Design topics and principles include: Composition; Symmetry and Asymmetry; Gestalt; Appropriation; The Bauhaus Basic Course Approach; Color Theory; The Grid; Scale, Hierarchy and Collage; Tonal Range; Elements of Motion.

Digital Foundations
is an AIGA Design Press book, published under Peachpit's New Riders imprint in partnership with AIGA, the professional association for design.
Table of Contents
Introduction

Chapter 1: The Metaphor of Using Graphics Applications

Chapter 2: Searching and Sampling - Becoming an Expert Web User

Illustrator

Chapter 3: Color Theory and Basic Shapes

Chapter 4: Using the Grid

Chapter 5: Symmetry

Chapter 6: Flat Graphics and Line Art

PhotoShop

Chapter 7: Scanning and Digital Cameras

Chapter 8: Tonal Scale

Chapter 9: Layering and Collage

Chapter 10: Typography

Chapter 11: Getting It Out: Digital Output for web

Chapter 12: Non-Destructive Editing

InDesign

Chapter 13: Creating Unity within a System

Chapter 14: Creating Tension within a System

Dreamweaver

Chapter 15: Hello World

Chapter 16: Files and Servers

Chapter 17: Hyperlinks

Flash

Chapter 18: Elements of Motion

Chapter 19: Pacing

Chapter 20: Commanding the Timeline: ActionScript


Purchase Info
ISBN-10: 0-321-60260-9
ISBN-13: 978-0-321-60260-2
Format: Safari PTG
This publication is not currently for sale.