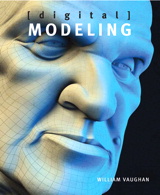 Description
Professional modeling is the foundation of every aspect of the 3D production pipeline and is essential to the success of any 3D computer graphics project.
[digital] Modeling
is unlike any other modeling book you've seen—it gets to the core of what it takes to create efficient production-ready models and demystifies the process of producing realistic and jaw-dropping graphics. Taking a software-neutral approach, it teaches you the essential skills and concepts that you can apply to modeling in any industry 3D software, such as 3ds Max, LightWave 3D, Maya, Modo, Silo, XSI, ZBrush and other leading programs. Modelers, animators, texture artists, and technical directors can all benefit from the valuable information covered in this jam-packed guide containing years of industry knowledge. Simply put, if you work in 3D, you must have this book.
In this inspiring and informative guide to modeling, industry veteran William Vaughan teaches you how to:
Master modeling techniques to produce professional results in any 3D application

Use the tools of a professional digital modeler
Control your models polygon-count as well as polygon-flow
Create both organic and hard surface models
Understand a modeler's role in a production environment
Gain the knowledge to land a job in the industry as a digital modeler
Model using specific tools such as LightWave and 3ds Max in over 6 hours of video training on the accompanying DVD
Table of Contents
Chapter One Introduction
What Is Digital Modeling?
Chapter Two Understanding a Modeler's Role
Chapter Three Preparing for Modeling
Chapter Four Fundamentals of a Digital Model
Chapter Five Digital Modeling Methods
Chapter Six Professional Modeling Practices
Chapter Seven Polygonal Modeling
Chapter Eight Subdivision Surface Modeling
Chapter Nine Modeling a Realistic Head
Chapter Ten Modeling a Stylized Character
Chapter Eleven Product Modeling for Print Graphics
Chapter Twelve Digital Sculpting
Chapter Thirteen Game Modeling
Chapter Fourteen 3D Printing of Digital Models
Chapter Fifteen Getting a Job in Digital Modeling
Final Thoughts
Index

Purchase Info
ISBN-10: 0-321-71262-5
ISBN-13: 978-0-321-71262-2
Format: Safari PTG
This publication is not currently for sale.