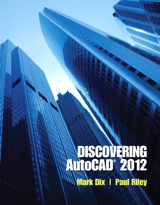 Description
For introductory courses in AutoCAD
Discovering AutoCAD 2012 presents a hands-on, activity-based approach to the use of AutoCAD as a drafting tool–complete with techniques, tips, shortcuts, and insights that improve efficiency. Topics and tasks are carefully grouped to lead students logically through the AutoCAD command set, with the level of difficulty increasing steadily as skills are acquired through experience and practice. Straightforward explanations focus on what is relevant to actual drawing procedures, and illustrations show exactly what to expect on the computer screen. This edition features Web-based exercises, projects, and new test questions for each chapter.
Table of Contents
Part One Basic Two-Dimensional Entities
CHAPTER 1 Lines and Essential Tools
CHAPTER 2 Circles and Drawing Aids
CHAPTER 3 Layers, Colors, and Linetypes
CHAPTER 4 Templates, Copies, and Arrays
CHAPTER 5 Arcs and Polar Arrays
CHAPTER 6 Object Snap
Part Two Text, Dimensions, and Other Complex Entities
CHAPTER 7 Text
CHAPTER 8 Dimensions
CHAPTER 9 Polylines
CHAPTER 10 Blocks, Attributes, and External References
Part Three Isometric Drawing and Three-Dimensional Modeling
CHAPTER 11 Isometric Drawing
CHAPTER 12 3D Modeling
CHAPTER 13 More Modeling Techniques and Commands
APPENDIX A Drawing Projects
APPENDIX B Creating Customized Panels
APPENDIX C Menus, Macros, and the CUI Dialog Box
APPENDIX D Additional Tools for Collaboration
Glossary
Index
Purchase Info ?
With CourseSmart eTextbooks and eResources, you save up to 60% off the price of new print textbooks, and can switch between studying online or offline to suit your needs.
Once you have purchased your eTextbooks and added them to your CourseSmart bookshelf, you can access them anytime, anywhere.
Buy Access
Discovering AutoCAD 2012, CourseSmart eTextbook
Format: Safari Book
$45.99 | ISBN-13: 978-0-13-267277-1