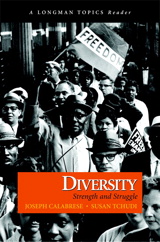 Table of Contents
Preface

What is Race For?
1. Americans' Complex Identities
Three Is Not Enough, Sharon Begley

Being An Other, Melissa Algranati

Fraternity, Garrett Hongo

Living In Two Cultures, Jean Wakatsuki Houston

American Dreamer, Bharati Mukherjee

Ethnicity and Identity: Creating a Sense of Self, Claire Chow

Reading, Research, and Writing
2. Reflections And Distortions In The Media And Popular Culture
Put On a Happy Face: Masking the Differences Between Blacks and Whites, Benjamin Demott

The Long March from Wong to Woo, Tiana Thi Than Nga

Crimes Against Humanity, Ward Churchill

The Don Juan Syndrome, Julie Chapa

Hollywood Targets Arab and Muslim Americans Since 9/11, Jack Shaheen

Real Minority; Media Majority, Salim Muwakkil

Reading, Research, and Writing
3. Confinement Within Stereotypes
Graduation, Maya Angelou

Growing Up Asian in America, Kesaya E. Noda

For My Indian Daughter, Lewis (Johnson) Sawaquat

The Model Minority Image, C.N. Le

Los Vendidos, Luis Valdez

The Myth of the Latin Woman: I Just Met a Girl Named Maria, Judith Ortiz Cofer

Reading, Research, and Writing
4. The Reality of the Personal
Mother's English, Amy Tan

Like Mexicans, Gary Soto

Baby, bell hooks

My Jewish Nose, Lisa Miya-Jervis

Of Race and Risk, Patricia Williams

Freedom From Choice, Brian A. Courtney

Reading, Research, and Writing
Enduring Discrimination: Miles to Go, Promises to Keep
Driving While Black, John Lamberth

Not Color Blind: Just Blind, Burke Marshall and Nicholas deB. Katzenbach

Blind Spot, Peter Beinart

Construction of an Enemy, Eleanor Stein

Voting While Black, Bob Herbert

Nobodies, John Bowe

Reading, Research, and Writing
Additional Course Materials
This title is also sold in the various packages listed below. Before purchasing one of these packages, speak with your professor about which one will help you be successful in your course.
Package ISBN-13: 9780205604630
Includes this title packaged with:
Shape of Reason, The: Argumentative Writing in College, 4th Edition
John T. Gage
$84.80 $80.56 | Add to Cart