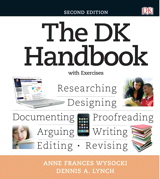 Description
Transforming student and instructor expectations for textbooks, The DK Handbook presents information in newly accessible, scientifically tested, and student-friendly ways.
Never before seen in the handbook market, The DK Handbook's design is a true marriage of visual and textual content, in which each topic is presented in self-contained, two-page spreads for at-a-glance referencing. Explanations are concise and "chunked" to be more approachable and appealing for today's readers, and accompanying visuals truly teach – making concepts and processes visible to students. The ground-breaking layout creates a consistent look and feel that helps students connect with the material, find information, and recognize solutions to writing problems they often don't have names for.
In addition to the groundbreaking design, The DK Handbook provides the content that students need. With more attention to research—particularly online research—than other handbooks, DK gives students a solid foundation in information literacy. The handbook also presents grammar and documentation (MLA, APA, CMS and CSE) in new ways that makes the material more accessible, including unique "pattern pages" that help students grasp principles visually.
With strong attention to the rhetorical situation, a visual presentation of the writing process, and usablity tested grammar, research and documentation coverage, The DK Handbook offers all the standard material expected in a handbook, but presents it in a revolutionary format motivates students to use their handbook – and helps them become better writers and researchers.
Table of Contents
Part 1
A PROCESS FOR COMPOSING
What is composing?
What is rhetoric?
Audience
Context
Purpose
Strategies
Rhetoric and a process for composing
Understanding your project or assignment
Part 2
FINDING IDEAS
Composing to learn and composing to communicate
A research process
Getting started with research
Finding a topic
Narrowing a topic
How do you know when you have a narrowed topic?
Other strategies for narrowing a topic
Questions to guide research
Using research questions to develop a topic
Kinds of sources, kinds of research
Kinds of research
Determining where to research
Choosing sources
Periodicals
Books
Webpages
Finding sources
Library research
Using library journal databases
Online research
Archives and special collections
Field research sources
What if you can't find anything on your topic?
Keeping track of sources
Starting a paper
Sample research questions
PART 3
ANALYZING ARGUMENTS AND EVALUATING SOURCES
What is analysis?
Understanding and analyzing texts
Developing a sense of the author
Understanding appeals to emotions
Understanding arrangement
sample analysis essay
Analyzing arguments
Thesis statements
What counts as evidence
Further questions to guide critical reading
Critical reading
Sample annotated argument
Sample rhetorical analysis
Questions to guide critical looking
Sample analysis of a visual text
Evaluating sources
For relevance
For credibility—print
For credibility—online
Using analysis to develop a thesis statement
Sample thesis statements
PART 4
ORGANIZING AND SHAPING TEXTS
What is organization?
Conceptual frameworks and genres
Academic genres
Writing in the humanities
Writing in the sciences
Writing in the social sciences
Using a thesis statement to organize an academic paper
Sample thesis statement organizing a paper
Workplace genres
Resumes
Popular genres
Shaping paragraphs
Unified and coherent paragraphs
Paragraphs that develop
Visual organization
Organization for oral presentations
PART 5
DRAFTING A PAPER, CONNECTING WITH AUDIENCES
Understanding your audience
Characteristics of your audience
Connections with the issue
Starting to write for an audience
How to write a statement of purpose
Sample statement of purpose
A rough draft
Sample rough draft
Receiving feedback to a draft
Responding to the writing of your peers
Sample peer response
PART 6
REVISING WITH STYLE
Revising your writing
Developing a revision plan
Sample revision plan
Revising, style and audience
Style in writing
Styles readers expect in different settings
Styling paragraphs
Concluding paragraphs
Introductory paragraphs
Transitions between paragraphs
Passive voice
Styling sentences
Academic sentences
Sentences that are easy to read
Using coordination and subordination
Parallelism
Figurative language
Styling words
Dictionary definitions
Names
Action verbs
Concrete nouns
Clichés
Jargon
Wordiness
Style in visual texts
Typography
Color
Style in oral presentations
PART 7
WRITING FOR DIVERSE AUDIENCES
Varieties of English
Academic English
English as a global language
Writing English when English is not your home language
Using inclusive language
Including all ethnicities
Including all genders
Including all abilities
Including all ages
Including all sexual orientations
Including all religions
Using an ESL dictionary
PART 8
DOCUMENTING
Researching ethically
Why cite and document sources?
What is plagiarism?
Tips for avoiding plagiarism
Four facets of citing and documenting
Quoting, summarizing, and paraphrasing
Quoting the words of others
Summarizing the words of others
Paraphrasing the words of others
Five kinds of sources
Collecting citation information for books
Collecting citation information for part of a book
Collecting citation information for periodicals
Collecting citation information for webpages
MLA Documentation
A paper in MLA format
Sample research paper
For in-text citations
Variations on the pattern
For works cited
Sample works cited page
For periodicals
For articles from databases
For webpages
For books
For parts of books
For other kinds of texts
Author's name
Titles
Periodical volume, issue, number, and date
Page numbers for articles from periodicals
Place of publication
Year of publication
Website titles
Additional information
For other kinds of texts
APA Documentation
A paper in APA format
Sample research paper
A reference list page in APA format
Sample references page
In-text citations
Reference list entries
CSE Documentation
In text
References
CMS Documentation
In text
References
PART 9
EDITING AND PROOFREADING YOUR WORK
Editing and proofreading
How to edit
How to proofread
Subject-verb agreement
Academic verb tenses
Shifts in verb tenses
Shifts in grammatical forms
Sentence fragments
Run-on sentences
Pronoun reference and agreement
Misplaced and dangling modifiers
Grammar
Parts of speech
Nouns
Pronouns
Adjectives
Articles
Verbs
Adverbs
Prepositions
Conjunctions
Sentence functions
Sentence patterms
Simple sentences
Subjects and predicates
Independent clauses
Compound sentences
Complex sentences
Compound-complex sentences
Punctuation
Commas
With numbers, place names, and dates
When you are quoting the words of others
To separate words in lists
To build sentences that contain multiple parts
When not to use commas
Semicolons
Colons
In conventional patterns
For information at the end of a sentence
To link two sentences
Parentheses
Dashes
Brackets
Hyphens
Slashes
Ellipses
Apostrophes
Quotation marks
Periods
Question marks
Exclamation points
Mechanics
Using italics and underlining
Spelling
Capitalizing words
Abbreviations
Numbers
EXERCISES
Glossary of grammatical terms and usage
Index
Revision checklist
Revision symbols
Questions about research (inside back cover)
A writer's concerns (inside back cover)
Purchase Info ?
With CourseSmart eTextbooks and eResources, you save up to 60% off the price of new print textbooks, and can switch between studying online or offline to suit your needs.
Once you have purchased your eTextbooks and added them to your CourseSmart bookshelf, you can access them anytime, anywhere.
Buy Access
DK Handbook with Exercises, The, CourseSmart eTextbook, 2nd Edition
Format: Safari Book
$35.99 | ISBN-13: 978-0-205-76629-1