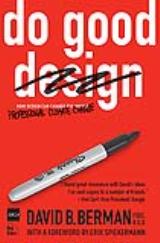 Description
How Design CAN CHANGE the World
Today, everyone is a designer. And the future of civilization is our common design project.
How does design help choose our leaders?
Why do we really have an environmental crisis?
How can accessible design broaden your audience?
Why does the U.S. economy now struggle to compete?
How has design thinking added to the bottom line of the world's most valuable companies?
Design matters. As it never has before.
Design creates so much of what we see, what we use, and what we experience. In a time of unprecedented environmental, social, and economic crises, designers must now choose what their young profession will be about: deploying weapons of mass deception — or helping repair the world.
Do Good Design is a call to action:
This book alerts us to the role design plays in persuading global audiences to fulfill invented needs. The book then outlines a sustainable approach to both the practice and the consumption of design. All professionals will be inspired by the message of how we can feel better and do better while holding onto our principles.

In a time when anything has become possible, design thinking offers a way forward for us all.
What will you do?
Table of Contents
Contents

vii Forewords
1 Introduction
4 The Creative Brief: disarming the weapons of mass deception
6 Chapter 1: Start now
20 Chapter 2: Beyond green: a convenient lie
30 Chapter 3: Pop landscape
48 Chapter 4: The weapons: visual lies and manufactured needs
60 Chapter 5: Where the truth lies: the slippery slope
72 Chapter 6: Wine, women, and water
84 Chapter 7: Losing our senses

102 The Design Solution: Convenient Truths
104 Chapter 8: Why our time is the perfect time
120 Chapter 9: How to lie, how to tell the truth
128 Chapter 10: How we do good is how we do good
134 Chapter 11: Professional climate change

146 The Do good Pledge
148 Chapter 12: "What can one professional do?"
159 Appendix A: First Things First manifesto
160 Appendix B: Excerpt from the GDC Code of Ethics
161 Appendix C: Excerpt from AIGA's Standards of Professional

Practice
162 Appendix D: The road to Norway and China
165 Notes
171 Index
177 Questions for discussion
178 Acknowledgements: a small group of concerned citizens
180 About the author

Purchase Info
ISBN-10: 0-321-57359-5
ISBN-13: 978-0-321-57359-9
Format: Safari PTG
This publication is not currently for sale.