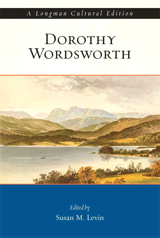 Description
From Longman's Cultural Editions series, Dorothy Wordsworth, edited by internationally acclaimed expert Susan Levin, is the first to gather all the writings of Dorothy Wordsworth into a single volume, representing all the genres that attracted her pen: poetry, journals, travelogues, letters, tales and narratives.
Often treated merely as an appendage to her famous brother William, Dorothy Wordsworth emerges across Susan Levin's pages as a vital imagination, keenly tuned to her world, and pulsing with her own brilliance: journalist, poet, traveler, social activist, and crucial presence in the Wordsworth household. The world of Grasmere and its writing community are conveyed by selections from De Quincey on incest, Hannah Glasse on making mutton, a spy from the Home Office on "a sett of violent democrats," and a country farmer on "the pernicious and destructive consequences of enclosing common fields" —all in all more than 400 pages of seething Romanticism.
Handsomely produced and affordably priced, the Longman Cultural Editions series presents classic works in provocative and illuminating contexts-cultural, critical, and literary. Each Cultural Edition consists of the complete texts of important literary works, reliably edited, headed by an inviting introduction, and supplemented by helpful annotations; a table of dates to track its composition, publication, and public reception in relation to biographical, cultural and historical events; and a guide for further inquiry and study.
Table of Contents
List of Illustrations
About Longman Cultural Editions
About this Edition
Introduction
Table of Dates
Texts
The Alfoxden Notebook
From: Journal of Days Spent in Hamburgh
From: The Grasmere Journal
Recollections of a Tour Made in Scotland A.D. 1803
Mary Jones and her Pet-Lamb
Narrative Concerning George and Sarah Green
From: Tour on the Continent 1820
Journals 1824-1835
Collected Poems
Letters
Contexts
Money and Distance
Descriptions of Dorothy Wordsworth
Life in the Wordsworth Household
Literary Contexts
Viewing the World: The Picturesque and Travel
Social and Political
Further Study
Purchase Info ?
With CourseSmart eTextbooks and eResources, you save up to 60% off the price of new print textbooks, and can switch between studying online or offline to suit your needs.
Once you have purchased your eTextbooks and added them to your CourseSmart bookshelf, you can access them anytime, anywhere.
Buy Access
Dorothy Wordsworth: A Longman Cultural Edition, CourseSmart eTextbook
Format: Safari Book
$6.99 | ISBN-13: 978-0-205-81679-8