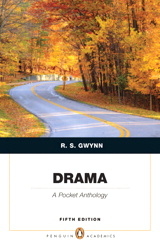 Description
A nice alternative to lengthier and more expense anthologies, Drama: A Pocket Anthology is the perfect choice for professors who want to see several books in an Introduction to Drama course. Chronologically organized, changes to the new edition include:
Yasmina Reza's Tony-winning comedy The God of Carnage, produced on Broadway with a cast including James Gandolfini and Jeff Daniels, reflects the robust strength of today's Broadway and of contemporary comedy.
Shakespeare's Twelfth Night brings a classic comedy to this collection for the first time.
Table of Contents
Table of Contents
* indicate new selections.
Introduction
The Play's the Thing.
Origins of Drama.
Aristotle on Tragedy.
Plot.
Characterization.
Theme.
Diction.
Spectacle.
Brief History and Description of Dramatic Conventions.
Film Versions: A Note.
Writing About Drama.
Drama.
Sophocles (496?-406 B. C.), Antigone, translated by Robert Fagles
* William Shakespeare (1564-1616), Twelfth Night, edited by David Bevington
Henrik Ibsen (1828-1906), An Enemy of the People, adapted by Arthur Miller.
Susan Glaspell (1882-1948), Trifles.
Tennessee Williams (1911-1983), The Glass Menagerie.
Edward Albee, (B. 1928), The Sandbox.
Athol Fugard (B. 1932), "Master Harold" . . . and the boys.
August Wilson (B. 1945-2005), The Piano Lesson
David Ives (B. 1950), Sure Thing.
Milcha Sanchez-Scott (B. 1953), The Cuban Swimmer
* Yasmina Reza (B. 1959) The God of Carnage
Acknowledgements.
List of Critical Terms.