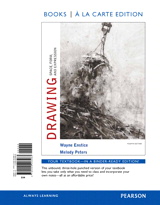 Description
For undergraduate courses in Drawing and Figure Drawing.

An easy to read, comprehensive text for drawing students of all levels.


This highly readable text is designed to address the needs of undergraduate drawing students from beginning through advanced levels. Arranged in three sections that reflect the essential aspects of the process of drawing, it addresses spatial and compositional organization, strategies for depicting three-dimensional form and light, and it features an extended look at the way subject matter and form interact to produce content. This text combines comprehensive coverage of traditional approaches to observational drawing with advanced theory based on the premise that drawing is an art form in its own right.
This Books á la Carte Edition is an unbound, three-hole punched, loose-leaf version of the textbook and provides students the opportunity to personalize their book by incorporating their own notes and taking only the portion of the book they need to class – all at a fraction of the bound book price.
Table of Contents
Contents
Preface
Introduction
The Legacy of Drawing
Extending the Definition of Drawing
The Student and Master Drawings
The Issue of Talent
The Public Side of Drawing
Seeing Versus Naming
Drawing as a Process
The Merits of a Sketchbook
SECTION ONE: SPACE
1 The Three-Dimensional Space of a Drawing
Making Your Mark
The Mark Versus the Line
Figure-Ground
The Picture Plane
The Picture Plane Begins Your Space
Fundamental Methods for Creating Three-Dimensional Space
Looking at Space
Gesture Drawing as a Means of Capturing Space
Mapping out your Drawing Using Constellations
2 The Two-Dimensional Space of a Drawing
Two-Dimensional Space and Modern Art
The Shape of a Drawing
Positive and Negative Shape
Implications of the Term Negative Shape
Accentuating the Positive or the Negative
Ambiguous Space
3 Shape, Proportion, and Layout
Drawing in Proportion
Shape and Proportion
Shape and Foreshortening
Measuring with Your Pencil
Using the Viewfinder to See Proportion
Spatial Configurations
Angling and the Picture Plane
Advice on the Use of Proportioning Techniques
Laying Out Your Drawing
Tips on Selecting a Vantage Point
Tips on Laying Out Your Image
4 Linear Perspective
Point of View
Convergence and Fixed Position
One-Point Perspective
Two-Point Perspective
The Circle in Perspective
Other Geometric Volumes and Near-Geometric Volumes
The Advantages and Shortcomings of Linear Perspective
Three-Point Perspective
SECTION TWO: FORM
5 Form in Space
The Visual and the Tactile
Form and Gestalt
Approaches to General Form Analysis and Depiction
Cross Contour
Surface Structure of Natural Forms
6 Form in Light
The Directional Nature of Light
Value Shapes
Local Value
Directional Light and Local Value
Optical Grays
Chiaroscuro
7 The Interaction of Drawing and Design
Drawing and Design: A Natural Union
Principles of Design
Gesture Drawing as a Means to Design
8 Drawing the Human Figure
Why Draw the Figure?
Body Identification
Proportion
Gesture Drawing as a Means to Interpret the Figure
Anatomy in More Depth
The Importance of Gesture in Longer Poses
Fleshing Out Your Drawing
Drawing Hands and Feet
The Figure as Narrative
SECTION THREE: EXPRESSION
9 Subject Matter: Sources and Meanings
Traditional Subject Matter Areas
Subject Matter as a Source of Meaning
Thematic Variations
10 The Form of Expression
The Two Definitions of the Term Form
Studying the Form of a Masterwork
The Matter of Pictorial Invention
What Is Abstraction Anyway?
The Primacy of Form in the Visual Arts
Form as a Source of Meaning
Troubleshooting Your Drawings
Critical Questions to Ask About Your Drawings
The Issue of Detail
11 Visualizations: Drawing Upon Your Imagination
Visualizing with a Purpose
Practical Advice for Drawing Visualized Images
Freeing Up Your Imagination
Categories of the Visualized Image
12 Using Color in Drawing
Basic Color Theory and Terminology
Color Schemes
Using Color to Represent Space and Form
Color and Design
Color and Expression
SECTION FOUR: PORTFOLIOS
13 Portfolio of Student Drawings
Portrait and Self-Portrait
Visualized Images
Unusual Subject Matter
Graphic Novels and Comics
Computer-Generated Images
14 Portfolio of Contemporary Drawings
Historical Background
Realism and Reality
Abstraction
Expanded Format and Mixed Media
Narrative
Appropriation
Social and Political Themes
Art and Technology
Globalization
Glossary of Terms
Index
Purchase Info
ISBN-10: 0-205-20396-5
ISBN-13: 978-0-205-20396-3
Format: Alternate Binding
This title is currently unavailable on myPearsonStore.