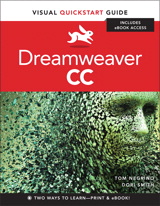 Description
&>
This text uses a combination of task-based instruction and strong visuals to teach beginning and intermediate students how to create, design, and publish powerful, innovative Web sites with Dreamweaver. The authors take them step-by-step through the new features in Adobe Dreamweaver CC, with completely revised sections on critical tools like styling pages with CSS, managing styles, and inserting tables. They'll also learn to take advantage of Dreamweaver's ability to simultaneously design sites for a variety of screen sizes, including desktops, tablets, and mobile phones. Beginning students will learn to create their first Web site, add text, style and lay out page content, manage styles, work with links, incorporate images, media, tables, forms, design site navigation, and so much more. More experienced students, will find this a convenient reference to the new features of Dreamweaver CC.
Download a copy of Adobe Creative Cloud PTG Product Guide from the PTG Academic Sales NEO group:
https://neo.pearson.com/groups/ptg-academic-sales
It includes a complete list of PTG CC products by application and user level and includes bestseller information.
Table of Contents
>
Introduction
Chapter 1: Introducing Dreamweaver
Chapter 2: Starting Your First Site
Chapter 3: Building Your First Page
Chapter 4: Adding Text to Your Pages
Chapter 5: Including Images and Media
Chapter 6: Working with Links
Chapter 7: Styling Page Content
Chapter 8: Using Styles for Layout
Chapter 9: Managing Styles
Chapter 10: Inserting Tables
Chapter 11: Using Forms and Fields
Chapter 12: Using Dreamweaver's Layout Tools
Chapter 13: Using Behaviors and Navigation Objects
Chapter 14: Building Pages with Dynamic Elements
Chapter 15: Working with Content Management Systems
Chapter 16: Making Life Easier: Using Templates, Libraries, and Snippets
Chapter 17: Editing Code
Chapter 18: Managing Your Site
Appendix: Where to Learn More
Purchase Info ?
With CourseSmart eTextbooks and eResources, you save up to 60% off the price of new print textbooks, and can switch between studying online or offline to suit your needs.
Once you have purchased your eTextbooks and added them to your CourseSmart bookshelf, you can access them anytime, anywhere.
Buy Access
Dreamweaver CC: Visual QuickStart Guide, CourseSmart eTextbook
Format: Safari Book
$19.99 | ISBN-13: 978-0-13-343472-9