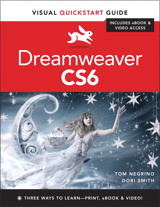 Description
Adobe Dreamweaver CS6: Visual QuickStart Guide uses a combination of task-based instruction and strong visuals to teach beginning and intermediate users how to create, design, and publish powerful, innovative Web sites with Dreamweaver.
Table of Contents
Introduction
Chapter 1: Introducing Dreamweaver
Chapter 2: Starting Your First Site
Chapter 3: Building Your First Page
Chapter 4: Adding Text to Your Pages
Chapter 5: Including Images and Media
Chapter 6: Working with Links
Chapter 7: Styling Page Content
Chapter 8: Using Styles for Layout
Chapter 9: Managing Styles
Chapter 10: Inserting Tables
Chapter 11: Using Forms and Fields
Chapter 12: Using Dreamweaver's Layout Tools
Chapter 13: Using Behaviors and Navigation Objects
Chapter 14: Building Pages with Dynamic Elements
Chapter 15: Working with Content Management Systems
Chapter 16: Making Life Easier: Using Templates, Libraries, and Snippets
Chapter 17: Editing Code
Chapter 18: Managing Your Site
Appendix: Where to Learn More
Bonus Chapter 1: Adding Frames
Bonus Chapter 2: Using Spry Widgets
Bonus Chapter 3: Working with Other Applications
Bonus Chapter 4: Customizing and Extending Dreamweaver
Purchase Info ?
With CourseSmart eTextbooks and eResources, you save up to 60% off the price of new print textbooks, and can switch between studying online or offline to suit your needs.
Once you have purchased your eTextbooks and added them to your CourseSmart bookshelf, you can access them anytime, anywhere.
Buy Access
Dreamweaver CS6: Visual QuickStart Guide, CourseSmart eTextbook
Format: Safari Book
$17.49 | ISBN-13: 978-0-13-300604-9