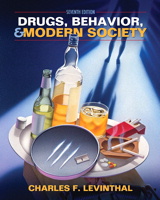 Description
For undergraduate courses on Drugs and Behavior.
This text examines the impact of drug-taking behavior on our society and our daily lives. The use and abuse of a wide range of licit and illicit drugs are discussed from historical, biological, psychological, and sociological perspectives.
In today's world, drugs and their use present a social paradox, combining the potential for good and for bad. As a society and as individuals, we can be the beneficiaries of drugs or their victims. Drugs, Behavior, and Modern Society, Sixth Edition features a comprehensive review of psychoactive drugs, and is notable for the attention it gives to two aspects of drug-taking behavior that have been underreported in other texts: steroid abuse and inhalant abuse.
Table of Contents
BRIEF CONTENTS
Preface
PART ONE: Drugs in Society/Drugs in Our Lives
CHAPTER 1: Drugs and Behavior Today
CHAPTER 2: Drug-Taking Behavior: The Personal and Social Concerns
CHAPTER 3: How Drugs Work in the Body and on the Mind
PART TWO: Legally Restricted Drugs in Our Society
CHAPTER 4: The Major Stimulants: Cocaine and Amphetamines
CHAPTER 5: Narcotics: Opium, Heroin, and Synthetic Opiates
CHAPTER 6: LSD and Other Hallucinogens
CHAPTER 7: Marijuana
PART THREE: Legal Drugs in Our Society
CHAPTER 8: Alcohol: Social Beverage/Social Drug
CHAPTER 10: Chronic Alcohol Abuse and Alcoholism
CHAPTER 11: Nicotine and Tobacco Use
PART FOUR: Enhancers and Depressants
CHAPTER 12: Performance Enhancing Drugs and Drug Testing in Sports
CHAPTER 13: Depressents and Inhalants
PART FIVE: Medicinal Drugs
CHAPTER 14 Prescription Drugs, Over-the-Counter Drugs, and Dietary Supplements
CHAPTER 15: Drugs for Treating Schizophrenia and Mood Disorders
PART SIX: Prevention and Treatment
CHAPTER 16: Substance-Abuse Prevention
CHAPTER 17: Substance-Abuse Treatment: Strategies for Change
Purchase Info ?
With CourseSmart eTextbooks and eResources, you save up to 60% off the price of new print textbooks, and can switch between studying online or offline to suit your needs.
Once you have purchased your eTextbooks and added them to your CourseSmart bookshelf, you can access them anytime, anywhere.
Buy Access
Drugs, Behavior, and Modern Society, CourseSmart eTextbook, 7th Edition
Format: Safari Book
$57.99 | ISBN-13: 978-0-205-04840-3