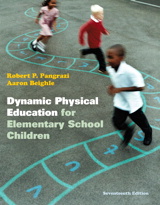 Description
Used by over a half-million students, the best-selling Dynamic Physical Education for Elementary School Children offers the next generation of physical education teachers the best guide in step-by-step techniques for teaching physical education. This book covers everything from games and activities suitable for every developmental level to teaching strategies and guidelines for common classroom situations.
Whether instructors are starting a new program, restructuring an established one, or working with a team in an existing system, Dynamic Physical Education for Elementary School Children provides the best combination of theoretical framework and hands-on activities available. The Seventeenth Edition underscores the importance of lesson plans provided in the accompanying Curriculum Guide by calling them out in the book and including them with the main book at no additional charge, offering the best value to students forrunning a successful PE class from Day 1. Dynamic Physical Education for Elementary School Children provides solid suggestions for incorporating physical education elements into classroom spaces, highlights the importance of teaching toward every student, emphasizes the tie between academics and PE, and underscores the importance of lifetime physical activity.
This package contains:
Dynamic Physical Education for Elementary School Children, Seventeenth Edition
Enhance your learning experience with text-specific study materials.
Purchase Info
Digital Choices ?
MyLab & Mastering with Pearson eText is a complete digital substitute for a print value pack at a lower price.
eTextbook ?
With CourseSmart eTextbooks and eResources, you save up to 60% off the price of new print textbooks, and can switch between studying online or offline to suit your needs.
Once you have purchased your eTextbooks and added them to your CourseSmart bookshelf, you can access them anytime, anywhere.
Print Choices
Alternative Options ?
Click on the titles below to learn more about these options.
Loose Leaf Version ?
Books a la Carte are less-expensive, loose-leaf versions of the same textbook.