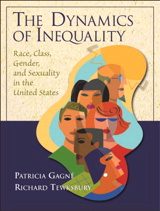 Table of Contents
(
NOTE: All chapters conclude with Getting Involved activites and Site-Seeing suggestions.
)
1. The Personal Experience of Inequality.
Ragtime, My Time, Alton Fitzgerald White. The End of the Line, Samuel G. Freedman. Coming Out Now, J. Baker and N. Joseph. Race, Skin Color, and Body Parts, Ta'Shia Asanti. Becoming a Man: The Personal Account of a Female-to-Male Transsexual, Mark Rees.
2. Linking the Past with the Present.
The Struggle for Equal Employment Opportunity in Corporate America, George Davis. Alabama Prison Chain Gangs: Reverting to Archaic Punishment to Reduce Crime and Discipline Offenders, James F. Anderson, Laronistine Dyson, Willie Brooks, Jr. Gender and the "American Way of Life": Women in the Americanization Movement, John F. McClymer. The Hidden Half: A History of Native American Women's Education, Deirdre A. Almeida. Lesbian/Gay Rights and Immigration Policy: Lobbying to End the Medical Model, William B. Turner. Lifting the Ban on Gays in the Civil Service: Federal Policy Toward Gay and Lesbian Employees Since the Cold War, Gregory B. Lewis.
3. How Inequality is Perpetuated: Culture and Its Impact.
The Problem of the Color Line, Anna Quindlen. The Enemy Within: The Demonization of Poor Women, Ruth Sidel. Cross-Cultural Perceptions of Social Class, Thomas J. Gorman. The Beauty Myth, Patricia J. Williams. Never Too Buff, John Cloud. Racial Warriors and Weekend Warriors: The Construction of Masculinity in Mythopoetic and White Supremacist Discourse, Abby L. Ferber. The Hardening Face of Anti-Semitism, Mark Sappenfield, James N. Thurman, William Echikson, Corinna Schuler, Tom Regan, Peter Grier. Overcoming Reservation about Leaving the Reservation, Michael Ridgway.
4. Barriers to Equality.
40 Acres and a Mule, Dalton Conley. A Busted Trust, Colman McCarthy. How the Government Killed Affordable Housing, John O. Norquist. Race in the Workplace, Robert J. Grossman. Institutional and Racial Barriers to Employment Equity for Hispanics, Jerry Yaffe. Temps Are Here to Stay, Jan Larson. Women in Management: How Far Have We Come and What Needs to be Done as We Approach 2000? Jeanne M. Brett, Linda K. Stroh. Designing Mom-Size Jobs, Joan Williams. Where Are the Civil Rights for Gay and Lesbian Teachers? Christine Yared. Conformity Pressures and Gender Resistance Among Transgendered Individuals, Patricia Gagne, Richard Tewksbury. Pain Relief in U.S. Emergency Rooms Is Related to Patients' Race, Deborah Josefson. The Health of African American Men, John A. Rich. Inadequate Housing: A Health Crisis for the Children of the Poor, Joshua Sharfstein, Megan Sandel. Construction of Masculinity and Their Influence on Men's Well-Being: A Theory of Gender and Health, Will H. Courtenay. The Impact of Medical and Sexual Politics on Women's Health, Linda Gannon. Stigma, Health Beliefs and Experiences with Health Care in Lesbian Women, Patricia E. Stevens, Joanne M. Hall. Busing Rolls to a Stop, Lucille Renwick. Racial Desegregation: Magnet Schools, Vouchers, Privatization, and Home Schooling, Loretta F. Meeks, Wendall A. Meeks, Claudia A. Warren. Gender Equity: Still Knocking at the Classroom Door, David Sadker. Back Seat Boys, Christian Science Monitor. Triumph Over Trauma, Sabrina McIntosh. New Facts on Racial Profiling, Jeffrey Prescott. Police Brutality Must End, The Progressive. Too Poor to Be Defended, Economist. Requiem for a Public Defender, Alan Berlow. An Ethnographic Assessment of the Policing of Domestic Violence in Rural Eastern Kentucky, Neil Websdale. Out in This World: The Social and Legal Context of Gay and Lesbian Families, Katherine Arnup. Legal Scholars of Gay Rights Offer Strategies to Combat the 'Apartheid of the Closet," D.W. Miller.
5. Violent Barriers to Equality.
Coming Out of Hatred, Mark Flanigan. Dancing to Hate: White Power Music, Bob Herbert. The Code of the Streets, Elijah Anderson. Factors Contributing to Juvenile Violence in Indian Communities, Larry EchoHawk. In Their Own Words: Battered Women's Assessment of the Criminal Processing System's Responses, Edna Erez, Joanne Balknap. Wife Rape: A Social Problem for the 21st Century, Kersti Yllo. "Honey, We Don't Do Men," Denise A. Donnelly, Stacy Kenyon. The Execution of PVT. Barry Winchell: The Real Story Behind the 'Don't Ask, Don't Tell' Murder, Thomas Hackett.
6. Theoretical Perspectives on Race, Class, Gender, and Sexualities.
Simple Justice: Affirmative Action and American Racism in Historical Perspective, J. Blaine Hudson. Invisible Masculinity, Michael S. Kimmel. Race, Gender, Class in the Lives of Asian Americans, Yen L. Espiritu. Reflections on Race, Class, and Gender in the U.S.A., Lisa Lowe (interview with Davis). Embattled Terrain: Gender and Sexuality, Judith Lorber.
7. Social Movements and Resistance.
A New Civil Rights Agenda, Joyce A. Ladner. Dismantling Environmental Racism in the U.S.A., Robert D. Bullard. The Ugly Side of the Modeling Business, Deborah Gregory, Patricia Jacobs. Race, Gender, and Class: The Challenges Facing Labor Educators, Bill Fletcher, Jr. Women of Color in Leadership, Helen Zia. The Rise of the Workplace Movement: Fighting for Lesbian, Gay, and Bisexual Rights in Corporate America, Nicole C. Raeburn. The Promise of Stonewall, Ann-Marie Cusac. Whose Movement Is It? Mubarak Dahir.