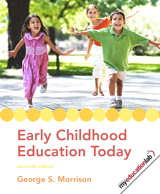 Description
This comprehensive, best-selling text on Introduction to Early Childhood Education focuses on the early care and education of young children from birth to age eight. Written at a time of change in education, the author writes about the challenges facing early child educators today. More than ever before, teachers are being held accountable for children's progress. Every teacher must interact with each child in developmentally and culturally appropriate ways, while also meeting the state and school district standards. The need for teachers to be competent in all areas of professional practice has never been greater. Known for its Voices of Professionals features, its coverage of professionalism is woven throughout the book and continues to be exceptionally strong.
Seven core themes are integrated throughout the text and provide a framework for understanding and implementing these practical and applied strategies to become an effective teacher. The seven themes are:
· Professionalism in Practice
· Theory into Practice
· Diversity
· Family-Centered, Community-Based Practice
· Timeliness
· Developmentally Appropriate Practice
· Technology Applied to Teaching and Learning
The new edition also continues its strong coverage of development in the age-specific chapters (chapters 9-12,) as well as the strongest coverage of special needs on the market.
Table of Contents
(Note: Each chapter contains the features Linking to Learning, Activities for Professional Development, and Readings for Further Enrichment)
PART 1 EARLY CHILDHOOD EDUCATION AND PROFESSIONAL DEVELOPMENT
1. You and Early Childhood Education: What Does It Mean to Be a Professional?
What Is a Professional?

The Five Goals of Professionalism

Professional Dispositions

What Are New Roles for Early Childhood Professional Today?
2. Current Issues and Public Policy: Contemporary Influences on Children and Families
Public Policy and Current Issues

Family Issues

Social Issues

Policy and Programming Trends

Accommodating Diverse Learners
3. Observing and Assessing Young Children: Effective Teaching Through Appropriate Evaluation
What Is Assessment?

Assessment for School Readiness

What is Observation?

What Are Critical Assessment Issues?

Accommodating Diverse Learners
PART 2 FOUNDATIONS: HISTORY AND THEORIES
4. The Past and the Present: Prologue to the Future
Why Is the Past Important?

Historical Figures and Their Influence on Early Childhood Education

The Beginnings of Kindergarten in the United States

Twentieth Century Early Childhood Educators

From Luther to the Present: The Essentials of Good Educational Practices

Views of Children Through the Ages

Accommodating Diverse Learners

Child-Centered Education
5. Theories Applied to Teaching and Learning: Foundations for Practice
Theories of Learning and Development

Piaget's Theory of Learning

Lev Vygotsky and Sociocultural Theory

Abraham Maslow and Self-Actualization Theory

Erik Erikson

Howard Gardner

Urie Bromfenbrenner and Ecological Theory

Accommodating Diverse Learners

New Directions in Cognitive Development
PART 3 PROGRAMS AND SERVICES FOR CHILDREN AND FAMILIES
6. Early Childhood Programs: Applying Theories to Practice
The Growing Demand for Quality Early Childhood Programs

Principles of the Montessori Method

The Montessori Method in Action

High/Scope: A Constructivist Approach

Reggio Emilia

Waldorf Education: Head, Hands, and Heart
7. Child Care: Meeting the Needs of Children, Parents, and Families
The World of Child Care

What Is Child Care?

Types of Child Care Programs

What Constitutes Quality Care and Education?

The Effects of Care and Education on Children
8. The Federal Government: Supporting Children's Success
Federal Legislation and Early Childhood

Head Start Programs

Other Federal Initiatives

Accommodating Diverse Learners
PART FOUR THE NEW WORLD OF EARLY CHILDHOOD EDUCATION
9. Infants and Toddlers: Foundation Years for Learning
What Are Infants and Toddlers Like?

Young Brains: A Primer

Motor Development

Intellectual Development

Language Development

Psychosocial and Emotional Development

Infant and Toddler Mental Health

Quality Infant and Toddler Programs

Preparing Environments to Support Infant and Toddler Development

Accommodating Diverse Learners
10. The Preschool Years: Getting Ready for School and Life
Why Are Preschools So Popular?

What Are Preschoolers Like?

School Readiness: Who Gets Ready for Whom?

Play and the Preschool Curriculum

The New Preschool Curriculum: Standards and Goals

Helping Preschoolers Make Successful Transitions

Accommodating Diverse Learners

Preschool Issues
11. Kindergarten Education
Who Attends Kindergarten?

Readiness and Placement of Kindergarten Children

The Changing Kindergarten

What Should Kindergarten Be Like?

Environments for Kindergarteners

Curriculum in Kindergarten

Kindergarten Issues

Accommodating Diverse Learners

The Future of Kindergarten
12. The Primary Grades
Teaching in Grades One to Three

What Are Children in Grades One to Three Like?

Primary Education Today

Looking to the Future
PART 5 MEETING THE SPECIAL NEEDS OF YOUNG CHILDREN
13. Technology and Young Children
The Computer Generation

Equity in Technology

Technology and Special Childhood Populations

Implementing Technology in Early Childhood Education Programs

Parents and Technology

The Technological Future and You
14. Guiding Children
The Importance of Guiding Children's Behavior

A Social Constructivist Approach to Guiding Children

Teacher Effectiveness Training

Nine Keys to Guiding Behavior

Development of Autonomous Behavior

Physical Punishment

Trends in Guiding Children
15. Multiculturalism
Multicultural Awareness

Multicultural Infusion

Bilingual Education Programs

Trends in Multicultural Education
16. Children with Special Needs
Children with Disabilities

Gifted and Talented Children

Abused and Neglected Children
17. Parent, Family, and Community Involvement
Changes in Schooling

Changes in Families

Education as a Family Affair

Guidelines for Involving Parents and Families

Community Involvement and More
Appendix A NAEYC Code of Ethical Conduct and Statement of Commitment
Appendix B NAEYC Guidelines for Developmentally Appropriate Practice in Early Childhood Programs
Appendix C Time Line: The History of Early Childhood Education
Additional Course Materials