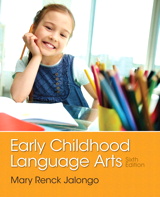 Description
"What do early childhood educators really need to know, do, and understand in order to work effectively and compassionately with the very young?" This is the focus of Mary Renck Jalongo's approach to this new edition of her widely popular Early Childhood Language Arts. In it she helps teachers become well informed about young children's language development, strategies to use to support language growth, and the essential elements for a novice teacher to mature into a master teacher. Distinctive from many other early literacy books in that it includes oral language rather than concentrating on literacy in print, the approach is to integrate language arts and other subject areas, including the fine arts.
Table of Contents
Preface
Part One Language Learning in Context
1. Appreciating Diversity and Educating the Young English Language Learner
2. Optimizing Every Child's Language Growth through Family Literacy
Part Two Oral Language
3. Understanding Language Development in Early Childhood
4. Helping Young Children Become Better Listeners
5. Supporting the Speaking Abilities of the Very Young
6. Using Narrative and Expository Texts to Foster Growth in Literacy
Part Three Literacy with Print
7. Fostering Growth in Emergent Literacy
8. Supporting Early and Independent Reading
9. Leading Young Children to Literature
Part Four Written Language and Symbol Systems
10. Drawing and Writing to Communicate
11. Understanding Media Influences and Applying Technology
Part Five The Teacher of Language Arts
12. Designing and Managing a Language Arts Program
13. Documenting Children's Progress in the Language Arts
Purchase Info
Digital Choices
eTextbook ?
With CourseSmart eTextbooks and eResources, you save up to 60% off the price of new print textbooks, and can switch between studying online or offline to suit your needs.
Once you have purchased your eTextbooks and added them to your CourseSmart bookshelf, you can access them anytime, anywhere.