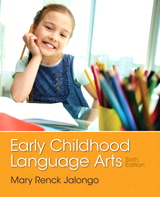 Description
Integrating the language arts—listening, speaking, reading, and writing—this book presents the most comprehensive look at early childhood literacy education available.
In response to rising expectations for early childhood educators' effectiveness and student achievement, this widely popular text includes research-based teaching strategies and information on brain research, bilingual education, technology, and the media's influences on young children. It gives instructors a synthesis of the critical information on language arts gleaned from research on emergent literacy, early childhood education, and special education, and includes in-depth coverage of children's literature, diverse language learners, and strong pedagogical features that bring the concept alive.
Table of Contents
Preface
Part One Language Learning in Context
1. Appreciating Diversity and Educating the Young English Language Learner
2. Optimizing Every Child's Language Growth through Family Literacy
Part Two Oral Language
3. Understanding Language Development in Early Childhood
4. Helping Young Children Become Better Listeners
5. Supporting the Speaking Abilities of the Very Young
6. Using Narrative and Expository Texts to Foster Growth in Literacy
Part Three Literacy with Print
7. Fostering Growth in Emergent Literacy
8. Supporting Early and Independent Reading
9. Leading Young Children to Literature
Part Four Written Language and Symbol Systems
10. Drawing and Writing to Communicate
11. Understanding Media Influences and Applying Technology
Part Five The Teacher of Language Arts
12. Designing and Managing a Language Arts Program
13. Documenting Children's Progress in the Language Arts
Purchase Info ?
With CourseSmart eTextbooks and eResources, you save up to 60% off the price of new print textbooks, and can switch between studying online or offline to suit your needs.
Once you have purchased your eTextbooks and added them to your CourseSmart bookshelf, you can access them anytime, anywhere.
Buy Access
Early Childhood Language Arts, CourseSmart eTextbook, 6th Edition
Format: Safari Book
$58.99 | ISBN-13: 978-0-13-335851-3