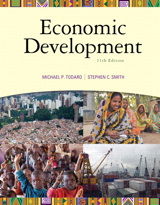 Description
A complete, balanced introduction to the theory, issues, and latest research.


Economic Development–the leading textbook in this field–provides readers with a complete and balanced introduction to the requisite theory, driving policy issues, and latest research. Todaro and Smith take a policy-oriented approach, presenting economic theory in the context of critical policy debates and country-specific case studies so readers see how theory relates to the problems and prospects of developing countries.
The eleventh edition offers new sections on the global financial crisis and violent conflict.
Table of Contents
Part 1: Principles and Concepts
Chapter 1: Introducing Economic Development: A Global Perspective
Chapter 2: Comparative Economic Development
Chapter 3: Classic Theories of Economic Growth and Development
Chapter 4: Contemporary Models of Development and Underdevelopment
Part 2: Problems and Policies: Domestic
Chapter 5: Poverty, Inequality, and Development
Chapter 6: Population Growth and Economic Development: Causes, Consequences, and Controversies
Chapter 7: Urbanization and Rural-Urban Migration: Theory and Policy
Chapter 8: Human Capital: Education and Health in Economic Development
Chapter 9: Agricultural Transformation and Rural Development
Chapter 10: The Environment and Development
Chapter 11: Development Policymaking and the Roles of Market, State, and Civil Society
Part 3: Problems and Policies: International and Macro
Chapter 12: International Trade Theory and Development Strategy
Chapter 13: Balance of Payments, Debt, Financial Crises, and Stabilization Policies
Chapter 14: Foreign Finance, Investment, and Aid: Controversies and Opportunities
Chapter 15: Finance and Fiscal Policy for Development
These online resources are available at no cost.
Companion Website for Economic Development, 11th Edition
Purchase Info
ISBN-10: 0-13-801388-8
ISBN-13: 978-0-13-801388-2
Format: Book
Digital Choices ?
MyLab & Mastering with Pearson eText is a complete digital substitute for a print value pack at a lower price.
eTextbook ?
With CourseSmart eTextbooks and eResources, you save up to 60% off the price of new print textbooks, and can switch between studying online or offline to suit your needs.
Once you have purchased your eTextbooks and added them to your CourseSmart bookshelf, you can access them anytime, anywhere.