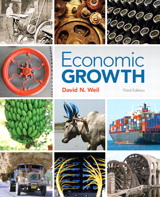 Description
Why are some countries rich and others poor? David N. Weil, one of the top researchers in economic growth, introduces students to the latest theoretical tools, data, and insights underlying this pivotal question. By showing how empirical data relate to new and old theoretical ideas, Economic Growth provides students with a complete introduction to the discipline and the latest research.

With its comprehensive and flexible organization, Economic Growth is ideal for a wide array of courses, including undergraduate and graduate courses in economic growth, economic development, macro theory, applied econometrics, and development studies.


Table of Contents
PART I: OVERVIEW
Chapter 1: The Facts to be Explained
Chapter 2: A Framework for Analysis
PART II: FACTOR ACCUMULATION
Chapter 3: Physical Capital
Chapter 4: Population and Economic Growth
Chapter 5: Future Population Trends
Chapter 6: Human Capital
PART III: PRODUCTIVITY
Chapter 7: Measuring Productivity
Chapter 8: The Role of Technology in Growth
Chapter 9: The Cutting Edge Of Technology
Chapter 10: Efficiency
Chapter 11: Growth In The Open Economy
PART IV: FUNDAMENTALS
Chapter 12: Government
Chapter 13: Income Inequality
Chapter 14: Culture
Chapter 15: Geography, Climate, and Natural Resources
Chapter 16: Resources and the Environment at the Global Level
PART V: CONCLUSION
Chapter 17: What We Have Learned and Where We are Headed
Purchase Info ?
With CourseSmart eTextbooks and eResources, you save up to 60% off the price of new print textbooks, and can switch between studying online or offline to suit your needs.
Once you have purchased your eTextbooks and added them to your CourseSmart bookshelf, you can access them anytime, anywhere.
Buy Access
Economic Growth, CourseSmart eTextbook, 3rd Edition
Format: Safari Book
$112.99 | ISBN-13: 978-0-321-82425-7