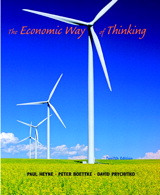 Description
For one semester survey courses in general economics

Teach your students how to think like economists.

The Economic Way of Thinking goes beyond explaining the basic principles of micro- and macroeconomic analysis by showing students a method of reasoning that teaches them how to apply these principles as tools. The authors expose students to a method of reasoning that makes them think like an economist through example and application and also shows them how not to think, by exposing errors in popular economic reasoning.

The latest edition has been thoroughly updated with current material.
Table of Contents
Chapter 1: The Economic Way of Thinking
Chapter 2: Efficiency, Exchange and Comparative Advantage
Chapter 3: Substitutes Everywhere: The Concept of Demand
Chapter 4: Cost and Choice: The Concept of Supply
Chapter 5: Supply and Demand: A Process of Coordination
Chapter 6: Unintended Consequences: More Applications of Supply and Demand
Chapter 7: Profit and Loss
Chapter 8: Price Searching
Chapter 9: Competition and Government Policy
Chapter 10: Externalities and Conflicting Rights
Chapter 11: Markets and Government
Chapter 12: Measuring the Overall Performance of Economic Systems
Chapter 13: The Wealth of Nations: Globalization and Economic Growth
Chapter 14: Money
Chapter 15: Economic Performance and Real-World Politics
Chapter 16: The Limitations of Economics


Purchase Info ?
With CourseSmart eTextbooks and eResources, you save up to 60% off the price of new print textbooks, and can switch between studying online or offline to suit your needs.
Once you have purchased your eTextbooks and added them to your CourseSmart bookshelf, you can access them anytime, anywhere.
Buy Access
Economic Way of Thinking, CourseSmart eTextbook, The, 12th Edition
Format: Safari Book
$83.00 | ISBN-13: 978-0-13-603987-7