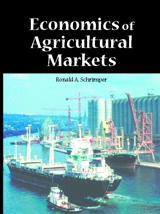 Table of Contents
I. OVERVIEW AND QUANTITATIVE MEASURES.
1. Overview of Markets and Marketing.
2. Measuring the Economic Importance of Agricultural and Food Marketing Activities.
3. Index Numbers.
II. ANALYTICAL TOOLS AND FRAMEWORK.
4. Demand and Elasticity Concepts.
5. Supply Concepts.
6. Models of Market Behavior.
7. Alternative Market Structures.
8. Price Discovery.
III. SPATIAL ASPECTS OF AGRICULTURAL MARKETS.
9. Spatial Characteristics of Markets.
10. Local Markets and Interregional Trade.
11. International Trade.
12. International Trade Model and Policies.
IV. TEMPORAL ASPECTS OF AGRICULTRAL MARKETS.
13. Storage Decisions in the Marketing of Agricultural and Food Products.
14. Futures Markets.
15. Fundamentals of Hedging.
16. Options Markets and Their Uses.