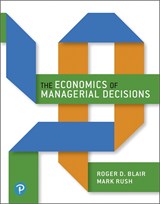 Description
NOTE: Before purchasing, check with your instructor to ensure you select the correct ISBN. Several versions of the MyLab™and Mastering™ platforms exist for each title, and registrations are not transferable. To register for and use MyLab or Mastering, you may also need a Course ID, which your instructor will provide.
Used books, rentals, and purchases made outside of Pearson
If purchasing or renting from companies other than Pearson, the access codes for the MyLab platform may not be included, may be incorrect, or may be previously redeemed. Check with the seller before completing your purchase.
For courses in managerial economics.
This package includes MyLab Economics.
Teaching students managerial economics through real examples, real businesses, with real-life situations
The Economics of Managerial Decisions, 1st Edition teaches students how to make business decisions by blending the qualitative and quantitative aspects of the course. Using examples from different sectors of the economy, the authors present real examples, such as Pizza Hut, to teach the concepts of production and cost, and KV Pharmaceuticals, to talk about monopoly -- helping students see how theory is applied in different contexts. Students learn these skills and then master them using Auto-Graded Excel Projects and Decision-Making Mini-Sims within the accompanying MyLab™, to ensure they not only understand, but can also apply, the economics of making a managerial decision.
Personalize learning with MyLab Economics
By combining trusted author content with digital tools and a flexible platform, MyLab personalizes the learning experience and improves results for each student.
0134640985 / 9780134640983 Economics of Managerial Decisions Plus MyLab Economics with Pearson eText, The -- Access Card Package, 1/e
Package consists of:
0133548236 / 9780133548235 Economics of Managerial Decisions, The

0134184696 / 9780134184692 MyLab Economics with Pearson eText -- Standalone Access Card -- for The Economics of Managerial Decisions

Table of Contents
PART I: ECONOMIC FOUNDATIONS
1. Managerial Economics and Decision Making
2. Demand and Supply
3. Measuring and Using Demand
PART II: MARKET STRUCTURES AND MANAGERIAL DECISIONS
4. Production and Costs
5. Perfect Competition
6. Monopoly and Monopolistic Competition
7. Cartels and Oligopoly
8. Game Theory and Oligopoly
9. A Manager's Guide to Antitrust Policy
PART III: MANAGERIAL DECISIONS
10. Advanced Pricing Decisions
11. Decisions About Vertical Integration and Distribution
12. Decisions About Production, Products, and Location
13. Marketing Decisions: Advertising and Promotion
14. Business Decisions Under Uncertainty
15. Managerial Decisions About Information
16. Using Present Value to Make Multi-Period Managerial Decisions
The following content is posted on www.pearsonhighered.com:
WEB APPENDIX: The Business Plan
WEB CHAPTER: Franchising Decisions